S.P. Bharucha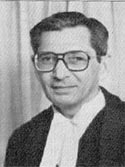 S.P. Bharucha
Former Chief Justice of India
Assumed Office1st Jul, 1992
Retired On5th May, 2002
Previously
Chief Justice of Karnataka High CourtNovember 1st 1991
Permanent Judge of Bombay High CourtApril 3rd 1978
Additional Judge of Bombay High CourtSeptember 19th 1977
EnrollmentJuly 28th 1960
Profile
Born on 6th May 1937, Justice Sam Piroj Bharucha was the 30th Chief Justice of India. He enrolled as an Advocate on 28th July 1960. He mainly practised in the Bombay High Court and used to occasionally represent clients in the Supreme Court.
On 19th September 1977, he became an Additional Judge at the Bombay High Court and was soon after appointed as a permanent Judge on the 3rd of April 1978. Subsequently, on 1st November 1991, Justice Bharucha became the Chief Justice of the Karnataka High Court and served in the office for approximately 8 months. On the 1st of July 1992, he was appointed as a judge of the Supreme Court. He succeeded Justice A. S. Anand by assuming the office of the Chief Justice of India on 1st November 2001. He retired on 6th May 2002.
During his stint at the Supreme Court, Justice S. P. Bharucha authored 344 judgments and was a part of 1307 benches

He predominantly adjudged cases relating to direct taxation (24.7%) and excise matters (18%). He is also known for his judgments on constitutional matters.

Notable Judgements
In The Supreme Court Of India v. Civil Advisory Jurisdiction, Justice S P Bharucha (as he was at the time) on behalf of himself and Ahmadi J, clarified that the term 'consultation with the Chief Justice' in Article 217(1) of the Constitution actually meant consultation with a plurality of judges as opposed to just the CJI. The Bench further stated that whenever there was a transfer of judges between high courts or an appointment of a judge to the Supreme Court, the CJI is required to consult with the four senior-most judges of the Supreme Court. Additionally, when a judge is being appointed to a High Court, the CJI is required to consult with at least the two senior-most judges of the Supreme Court.
The bench in Supreme Court Bar Association v. Union Of India was confronted with the question of whether or not, the Supreme Court could punish a lawyer who has been found guilty of contempt of court by suspending their license. The bench which included Justice Bharucha, found that it was not correct for the Court to take over the functions of other statutory bodies and perform their functions. It, therefore, decided that the power to suspend licenses in the given case rested with the Bar Council of India and that while exercising power under Article 142, courts must act with restraint.
In B.R. Kapoor v. State Of Tamil Nadu, the bench primarily through the judgement of Bharucha J, decided  that any person who was disqualified to be a member of the State legislature by being convicted of a criminal offence and thereby being subject to imprisonment, could not be appointed Chief Minister. It did so by reading Article 164(1) in conjunction with Article 164(4). The verdict of this case resulted in the dismissal of Jayalalitha as Chief Minister of Tamil Nadu.