Analysis
#8 Hadiya Marriage Case
Breaking down the Hadiya Case: Timeline of Events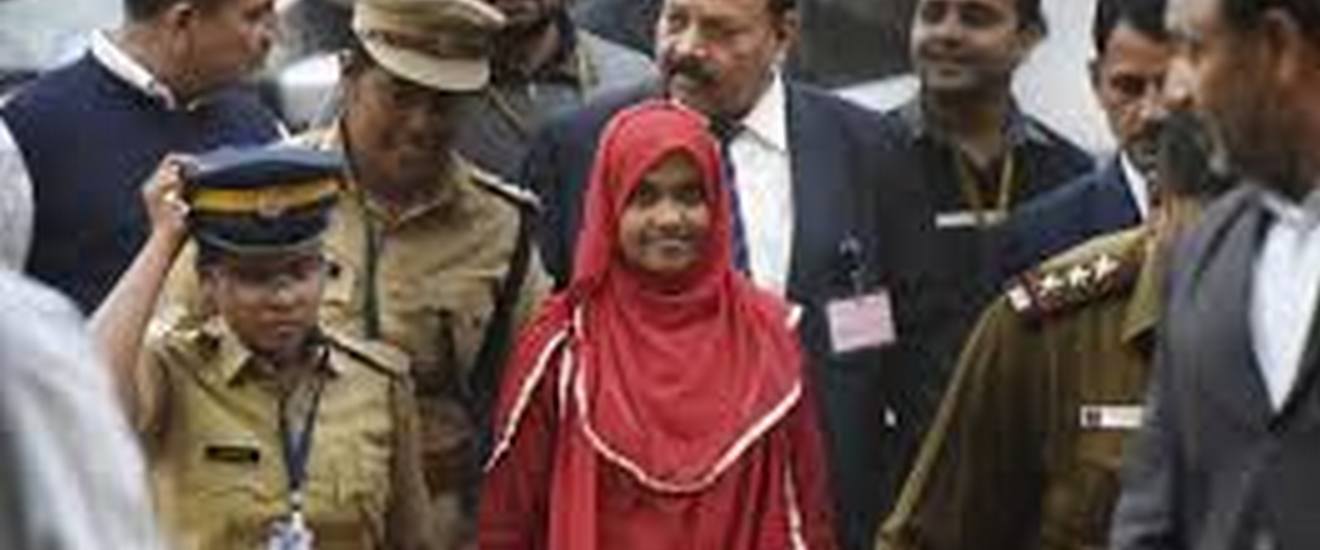 Shafin Jahan v. Ashokan K.M.
8.1 – Why did the Supreme Court Intervene?
8.1.1 –  The case made the headlines when the SC ordered the National Investigating Agency (NIA), India's premier Counter-Terrorist Agency to look into the suspected indoctrination of a 24 year old Hindu woman, Hadiya who converted to Islam and married the petitioner, Shafin Jahan.
8.1.2 : Who is Hadiya?
Hadiya (formely Akhila), a 24 year old Homeopathic medical student from Vaikom (Kerala) left Hinduism to embrace Islam in January 2016. A few months later, she married Shafin Jahan, triggering allegations of forced conversion and love jihad.
Shafin Jahan, the husband of Hadiya appealed against the Kerala High Court judgment which had annulled his marriage as "sham".
KM Ashokan, Hadiya's father alleged before the Court (Kerala High Court & Supreme Court) that Hadiya was indoctrinated to convert to Islam and her marriage to Shafin Jahan is a part of larger agenda of "Love Jihad".
8.2 – Is Hadiya a case of 'Love Jihad'?
8. 3 –  Did the Court support Hadiya's plea for freedom?
8.3.1 – SC Judgment (on April 9th 2018) – The 3 Judge bench headed by Dipak Misra CJI restored Hadiya's right to marry Shafin Jahan and embrace Islam by over-ruling the Kerala High Court judgment on three counts:
It was wrong in granting parental custody over Hadiya after she testified in open court that she left the house voluntarily.  It applied the Habeas Corpus jurisdiction wrongly.
It was wrong in applying the parens patriae doctrine which applies only to minors or individuals suffering from mental incapacity.
It transgressed on Hadiya's constitutional rights by questioning her right to marry and religious choice.
 8.4 – Have there been any successful 'love jihad' prosecutions?
8.4.1 – Six months after the judgment, the NIA closed its probe into inter-faith marriages in Kerala as it couldn't find any evidence of force or coercion. At the insistence of the SC, the NIA had picked 11 cases of inter-faith marriages in Kerala for examination into so called cases of "love jihad"
8.4.2 – There were spurts in love-jihad claims all across the country after the NIA probe was launched by the SC.:
Politicians made it part of their campaign speeches
A man Shambu Lal lynched and burnt a Muslim man alive in the name of fighting 'love jihad'
Hindu fringe groups put a Facebook Post of Hindu girls who married Muslim Men and instructing the followers "This is a list of girls who have become victims of love jihad. We urge all Hindu lions to find and hunt down all the men mentioned here".
Love Jihad Pamphlet by Sree Ram Sena, a Hindu Fringe Outfit
8.5 – Five Things You Must Read on 'Love Jihad'
8.5.1 – Suhrith Parthasarthy in an opinion piece, "The Hadiya  Caution" argues that though Hadiya's right to marry and religious choice was upheld by the Court, the judgment conceals the Supreme Court's support for the "Love-Jihad" narrative.
8.5.2 – Indira Jaising piece in Scroll, "Hadiya's Ordeal" suggests if it was a man in Hadiya's place, the court would have responded differently.
8.5.3 – J. Devika in The Caravan highlights the growing alienation of Muslim community in Kerala.
8.5.4 – Rahul Bhatia  in the New Yorker, "The Year of Love Jihad in India" writes that the Court legitimized the myth of 'Love Jihad' by even entertaining the case.
8.5.5 –Annie Gowen writes about the 'Love-Jihad' Hit List made public by a Hindu fringe group
Resources