Analysis
Live Streaming Justice
The Supreme Court committed to devising a livestream system for courts in 2018. This commitment has seen some new developments during 2020.
In 2012, two U.S. news channels reported that the Supreme Court of the United States  (SCOTUS) had declared ObamaCare unconstitutional. The news reached the White House and U.S. President Barack Obama. Stocks of health companies began to fluctuate. It appeared that long political jostling over Obama's flagship health policy had now come to pass.
Except, SCOTUS had not struck down ObamaCare.
SCOTUS usually publishes its judgments on its website within two minutes of a judgment being delivered. On the day of the ObamaCare judgment, the Court's website crashed. This meant that everyone who was not personally at the Court on the day, including the President and his staff, would have to rely on news reporting to see what was going on. Reporters stationed at the Court received a copy of the judgment summary.
Reporters from two media organisations had only read a part of the summary, which did not accept the Government's first argument: that ObamaCare was valid under its power to regulate commerce. Without reading further, the reporters took this as the Court striking down Obamacare and alerted their broadcasting networks who then publicly announced the news. However, the reporters didn't realise that the Court accepted the government's second argument based on the government's taxation powers, and upheld Obamacare.
It took some time, but eventually the President and the general public realised that Obamacare had been upheld, not struck down. This was a striking moment in U.S. legal reporting.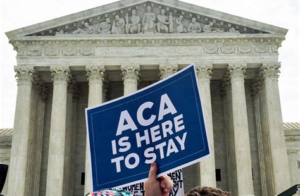 Some have argued that this whole fiasco could have been prevented by live streaming the proceedings, to allow the public to watch the Chief Justice read out the entire judgment. This would have provided context, and minimised the chance of anyone misunderstanding the Court's verdict.
Despite some reservations, courts all over the world have started live streaming their proceedings in service of public transparency and accountability. In India, the public currently relies on legal reporters for information about the daily affairs at the Supreme Court. Court observers and journalists attempt to maintain high standards of accuracy in their reporting. The public, however, has no method to corroborate such reporting. Their relationship with the Supreme Court is mediated by the press.
The Indian Supreme Court committed itself to devising a live streaming system for Indian Courts in 2018. Then, in June 2021, the e-Committee of the Court released draft rules for live streaming of High Court proceedings. It is anticipated that the live streaming of High Court proceedings will pave the way for the Supreme Court to do so as well.
Our study of live streaming practices in different jurisdictions is here.
Read our report on the e-Committee's draft rules here.