Analysis
SCO Conducts Workshop for Students at NALSAR University of Law
The SCO team conducted a workshop at the NALSAR University of Law, Hyderabad, on April 15th 2022.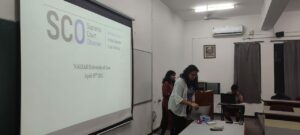 On April 15th 2022, the Supreme Court Observer team held a workshop for students at the NALSAR University of Law on the importance of accessible legal journalism. They demonstrated how to navigate the SCO website and use its features to understand a case.
The workshop followed on the heels of the first day of the 'Courts and the Constitution Conference' organised by the Law and Other Things blog in collaboration with NALSAR and Azim Premji University.
Attended by over 30 students, the workshop began with a key question—who interprets the Constitution? The students pitched in, answering that it is the people, the government, and the Courts that interpret the Constitution. The team explained how SCO focuses on the final interpreter of the Constitution—the Supreme Court. The team emphasised that SCO prioritises lucid, easy to understand language, so that the work of the Court is able to reach non-lawyers who might otherwise find jargon-filled reportage difficult to follow.
SCO develops such journalism through its dual functions. Its reporting keeps readers up to date with significant cases being heard at the Court. Its archival function creates a repository of all the important documents pertaining to a case. To illustrate how the reporting and archival comments blend to promote legal literacy, the team took the students through the main ingredients of a case (parties, written submissions, arguments and Judgment) as well as the life-cycle of a case, from institution at the admissions stage to the Judgment.
The Team conducted an interactive exercise for the students, distributing worksheets centring around Tamil Nadu's Vanniyar Reservations Case. Students were asked to open the SCO website and to answer the worksheet by exploring different components of the Case page. The questions grew progressively more difficult, with students visiting the Hearing Reports, Judgment Summary, Judgment Matrix, Judge Profiles, and Petition Summaries to answer them. The students were able to find the answers to all the questions, even those that were more challenging. 
The Team also explained the socio-political context of the Vanniyar Reservations Case, the significance of the 102nd and 105th Amendments to the Constitution, as well as the Maratha Reservations case. The students were urged to look beyond the bare text of the law and to understand the context in which the law evolves—SCO endeavours to help readers understand just this.
The team then guided the students through the other sections of the website, from the Court Data page that develops a quantitative institutional perspective of the Court, to the Desk Posts that provide incisive commentary on cases, to the Channel, SCO's podcast that sources external perspectives and summarises significant cases in an easily digestible format. The team also drew the students' attention to SCO's Desk Briefs (newsletters), its WhatsApp and Telegram updates, and other social media handles.