Altamas Kabir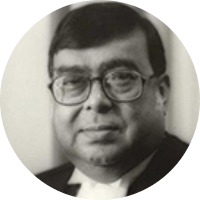 Altamas Kabir
Former Chief Justice of India
Assumed Office29th Sep, 2012
Retired On18th Jul, 2013
Previously
Chief Justice of Jharkhand High Court March 1st 2005 - September 8th, 2005
Permanent Judge of High Court of CalcuttaAugust 6th 1990 - February 28th 2005
EnrollmentAugust 1st 1973
Profile
Justice Altamas Kabir was a judge in the Supreme Court of India for eight years, of which he acted as its Chief Justice for ten months.
Born on July 19th 1948, in Calcutta, Justice Kabir completed his schooling at the Calcutta Boy's School. He attended Presidency College, Calcutta and majored in history. Soon after he obtained bachelor and master degrees in law from the University of Calcutta. Post his legal education, he enrolled at the Bar on August 1st 1973. He began his legal practice in the district and the High Court of Calcutta.
After 17 years in the Bar, Justice Kabir was elected as a permanent judge of the High Court of Calcutta on August 6th 1990. Fifteen years later during March 2005, he was transferred to the Jharkhand High Court as its Chief Justice. In the same year, on September 9th 2005, Justice Kabir was elevated to the Supreme Court. On September 29th 2012, he was elevated as the 39th Chief Justice.
During his eight-year term at the Supreme Court, Justice Kabir authored a total of 362 judgements and was a part of 698 benches. He wrote the most judgments in 2010:
Justice Kabir predominantly worked on criminal matters. He was involved in landmark cases around domestic violence, contempt of court and bail procedure.
Notable Judgments
In Sandhya Manoj Wankhade v. Manoj Bhimrao Wankhade Justice Kabir expanded the scope of the Domestic Violence Act, 2005 to include assault by female relatives: The Act did not explicitly recognise women as perpetrators of domestic violence.
In 2009, Prashant Bhushan in an interview to Tehelka magazine had alleged that at least sixteen Chief Justices of the Supreme Court were corrupt. Justice Kabir held that Bhushan's statements prima facie constituted contempt of the Court and initiated proceedings against him. The case is still pending before the Supreme Court.
Justice Kabir was also involved in another high profile case involving the accused in the infamous Israeli bomb blast. The police had failed to file a charge sheet against the accused who was illegally detained. Justice Kabir granted statutory bail to the accused and reproached the lower Court for the procedural lapses.
Four years after his retirement, Justice Kabir passed away on February 17th 2017, due to renal complications.