A.K. Sikri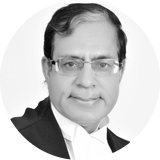 A.K. Sikri
Retired Judge of the Supreme Court of India
Assumed Office12th Apr, 2013
Retired On6th Mar, 2021
Previously
Chief Justice of the Punjab and Haryana High Court2012-2013
Acting Chief Justice of the Delhi High Court2011-2012
Judge of the Delhi High Court1999-2011
EnrollmentJuly 1977
Profile
Justice Arjan Kumar Sikri pursued his LL.B from Law Faculty, Delhi University in the year 1977, during which he also served as the president of Campus Law Centre. He was a member of the Academic Council and of various committees of Delhi University. He secured the Gold Medal for attaining the first position in LL.B. He was also awarded a special prize for getting the highest marks in Constitutional Law. He pursued his LL.M from Delhi University and secured the first position in the course. Just Sikri enrolled as an advocate in July 1977 with the Bar Council of Delhi and started practicing in Delhi. He specialised in Constitutional cases, labour law, and arbitration matters. He has represented numerous public sector undertakings, educational institutions, banks and financial institutions, and various private sector corporations. He was also a part-time lecturer in Campus Law Centre, Delhi University from 1984 1989). He served as Vice-President at the Delhi High Court Bar Association in 1994-95. He was designated as a Senior Advocate by the Delhi High Court on 30th September, 1997.
He was appointed as a Judge of the Delhi High Court on 7th July, 1999. He was appointed as the Acting Chief Justice of the Delhi High Court on 10th October 2011 and elevated as the Chief Justice of Punjab and Haryana High Court on 23rd September 2012. He was elevated to the Supreme Court of India on 12th April 2013. In November 2013, Dr. Ram Manohar Lohiya  National Law University, Lucknow conferred him a Doctorate of Laws, Honoris Causa.
He is a Member of the Academic Council of the National Judicial Academy, the International Law Association (India Branch), the Executive Council of National Law School of India University, and the Directorate of Legal Studies and Law Reforms Committee set up by Bar Council of India. He was a collegium member during the tenure of the previous Chief Justice Dipak Misra and the current Chief Justice Ranjan Gogoi.
In 2019, Justice Sikri recused himself from hearing a petition which had challenged appointment of M. Nagaeshwar Rao as the CBI Director following the transfer of Mr. Alok Verma from post of CBI Director. Justice AK Sikri had sat on the High Power Committee that transfered Mr. Verma in January 2019.
Notable Judgments
In 2013, a Punjab and Haryana High Court Bench which included Justice Sikri upheld the appointment of Director General of Police Sumedh Singh Saini who was chargesheeted in a criminal case by a CBI court in Delhi holding that he was "legally competent" to hold his present position.
He headed the division bench of the Punjab and Haryana High Court which issued notice to the Ministry of External Affairs of India in a Public Interest Litigation application seeking the release of two prisoners from Punjab, languishing in Pakistan jails even after they had completed their sentences.
He headed the division bench of the Punjab and Haryana High Court which issued directions to the Punjab and Haryana and Chandigarh administrations to curb the menace of crime against women. He had pointed out that Judges should be sensitized on delivering speedy justice in cases related to crime against women, elders, children and discrimination against HIV-infected persons.
He was part of the Supreme Court Bench which issued guidelines with regards to 'carriage' by persons with disabilities and/or persons with reduced mobility and observed that people with disabilities also have the right to dignity. The bench asked SpiceJet Ltd to pay Rupees Ten Lakh to Jeeja Ghosh, an eminent activist involved in disability rights, for forcibly de-boarding her by the flight crew, because of her disability.
He headed the Supreme Court bench which found Satish Nirankari, a man who survived a suicide attempt with the woman he loved, not guilty, noting that the threat of honour crimes by their families could 'force lovers to choose suicide as an option'. The Court held that if, in the process, one survived, and tried to seek medical help for himself and the deceased, he cannot be held guilty of murder.
In  2014, Justice Sikri along with Justice KS Radhakrishan gave a historic judgment that recognised transgenders as the third gender entitled to the full spectrum of constitutional and legal rights bestowed upon the citizens.
He was a part of the Bench which heard the PIL seeking for restrictions on use of firecrackers in Delhi. In 2016, the bench passed an order banning the sale and stocking of all kinds of firecrackers, as well as a halt in the issuing of fresh licenses for the same.
In 2018, he was part of a Constitution Bench which decided that the Chief Minister and not the Lieutenant Governor (LG) is head of the Delhi Government and that the LG has no power to act independently. By applying the principles of representative democracy to rule in favour of elected representatives – the Chief Minister and Council of Ministers, it resolved the administrative paralysis that had been afflicting the nation's capital for over 2 years.
Writing the majority opinion in Aadhaar case, Justice Sikri upheld the constitutionality of the Aadhaar Act, but curtailed its wide ambit by striking down provisions, which had allowed non-state parties to make Aadhaar mandatory. However, the Court did not strike down Section 7, which makes Aadhaar mandatory for qualification for State subsidies and benefits. By upholding Section 7, Justice Sikri signalled that the citizens dependent upon State subsidies and benefits may have to place limits on their right to self-identify, a part of the right to individual dignity.
In January 2019, a 2 judge bench headed by Justice Sikri struck down provisions of a 2016 Maharashtra law which laid down "virtually impossible conditions" for running a dance bar. It quashed the provisions which had imposed a ban on serving alcohol where dances were staged, installation of CCTV cameras in dancing spaces and giving licenses only to people who have "good character". The court held the good character criteria to be "vague" and installation of CCVTV cameras as being violative of privacy.
On 5th March, 2019, a 3 judge bench of Justices AK Sikri, A.Nazeer and MR Shah acquitted six men charged with rape and murder to whom it had awarded death sentences in 2009 and confirmed it on review in 2010. However, the Court accepted the review of 3 persons ( whose punishment were elevated from life imprisonment to death peanlty by the Supreme Court in 2010) on the ground that the 2009 judgment relied upon an old decision – Ram Chandra v State of Rajasthan – which had wrongly interpreted the "rarest of rare" test. In October 2018, a 3 judge bench recalled the 2009 SC judgment and restored the appeal from Bombay High Court which finally led to acquittal of six accused on the ground that the investigation suffered from serious lapses. This judgment can have far reaching impact on capital punishment debate as it shows that the highest court can go wrong  in applying law and facts to award capital punishment and it is only when a person has not been executed that it can be subsequently rectified.
In yet another significant judgment by the same bench on 5th March 2019, the Supreme Court acquitted two men whose death penalty was confirmed by the Chattisgarh High Court on the ground that the prosecution relied on testimony of a minor which was fraught with inconsistencies.