Bijan Kumar Mukherjea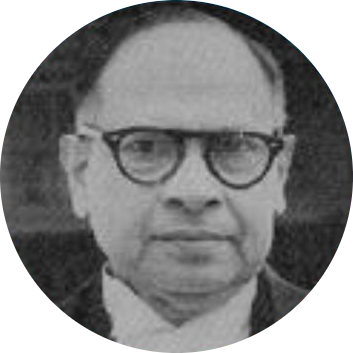 Bijan Kumar Mukherjea
Former Chief Justice of the Supreme Court of India
Assumed Office26th Jan, 1950
Retired On31st Jan, 1956
Previously
Judge, Federal Court/Supreme CourtOctober 14th, 1948 – December 22nd, 1954
Member, Bengal Boundary Commission1948
Judge, Calcutta High Court November 1936 – 1948
Senior Government Pleader, Calcutta Court1936
Junior Government Pleader, Calcutta High Court1934
Profile
Justice Bijan Kumar Mukherjea was born into the household of a Sanskrit scholar and lawyer in Nabadwip, West Bengal under serious economic hardships, and was the only judge among the first eight judges of the Federal Court who did not come from a privileged or financially wealthy family. He earned a total of five degrees, earning the gold medal at the University Law College in 1914 and 1916) and the Ananth Deb Research Prize. At the age of 22, on January 9th, 1914, Justice Mukherjea started his practice as an advocate from the Calcutta High Court. He was a part-time lecturer at the University Law College, his alma mater, where he earned a salary of ₹100 per month. After twenty years of practice, Justice Mukherjea was eventually appointed as a junior, and then a senior government pleader in 1934 and 1936 respectively. On November 9th, 1936, this eventually led to his appointment as an additional judge of the Calcutta High Court. On July 3rd, 1939, his appointment was made permanent.
After serving the High Court as a judge for eight years, Justice Mukherjea was appointed on the Bengal (Radcliffe) Boundary Commission, which was responsible for determining the award for the partition of Bengal. Notably, the final award of the Commission was embroiled in controversy since the Chittagong Hill Tracts were awarded to Bangladesh and this led to B.R. Ambedkar and Syama Prasad Mukherjee proposing to take the matter to the United Nations. 
Justice Mukherjea was appointed to the Federal Court by Chief Justice of India, H.J. Kania in 1948, and became the first Bengali appointee to the Court. When Justice Kania died, it was widely believed that Jawaharlal Nehru did not want to appoint the next senior most judge, Justice Patanjali Sastri, as the next Chief Justice, and considered appointing Justice Mukherjea instead. However, Justice Mukherjea's family would later claim that this was only a rumour. 
When Chief Justice Mahajan retired on December 23rd, 1954, Justice Mukherjea became the fourth Chief Justice of India.
A short tenure as the Chief Justice of India
Shortly after taking office, Justice Mukherjea's health failed him rapidly until he was forced to take a leave for several months in 1955. During his first period of leave after he fell sick, he recommended to recall the retired Justice Chandrashekhara Aiyar for a brief period under Article 128 of the Constitution, to ensure that the Court was not short-staffed. He returned for the periods between September 5th to October 31st, 1955, and again between December 1st, 1955 and May 11th, 1956. Though he was scheduled to serve as the Chief Justice till August 1956, he chose to resign on January 31st, 1956 due to severe health concerns. Because of this, Justice Sudhi Ranjan Das's tenure as the Chief Justice began prematurely by six months. 
When Justice Mukherjea returned to office between January 1953 and August 1955, he served as Chairman of the First Delimitation Commission which revised legislative district boundaries. In his last return, he was appointed to serve in the same position with the Second Delimitation Commission in 1956. 
On February 22nd, 1956, he passed away from his heart ailment.
Scholarly pursuits
Justice Mukherjea's doctoral thesis titled Problems of Aerial Law, was far ahead of its time. In 1952, as a judge of the Federal Court, he wrote a book titled The Hindu Law of Religious and Charitable Trusts. A number of academic recognitions were also bestowed on him. He was named a fellow by Calcutta University, and conferred with titles of Bidyaranjan and Saraswati by Bangiya Bibhuda Janani Sabha of Nabadwip. He also served as the president of the Bengal Sanskrit Association.
Tenure at the Supreme Court in numbers
During his five year tenure at the Supreme Court, Justice Mukherjea delivered 87 judgements, and was a part of 281 benches. This was less than his predecessor, Chief Justice M.C. Mahajan, who delivered 137 judgements in less than 1 year, and less than his successor, Chief Justice S.R. Das who delivered 160 judgements in 10 years. 
In his tenure, the highest number of cases heard by Justice Mukherjea were on the Constitution (38%) followed by Property Law.
Notable cases
Some of Justice Mukherjea's most important judgements were in the arena of tax law. In CIT v Ahmedbhai Umarbhai Patil, the Court discussed the liability of a firm that manufactured oil in Raichur, and sold it in Bombay, under the Excess Profits Act, 1940. Justice Mukherjea stated that when the manufacturer is himself the seller, the profit he may receive will include the profits accrued from manufacturing it. Justice Mukherjea claimed, however, that this was in "inchoate shape". Therefore,  though a portion of the profits is accrued to the manufacturer, the exact amount is ascertained only after the sale has concluded. Justice Mukerjea stated thus that for the purpose of imposing tax on excess profits, , two parts of the business would have to be conceived of as being carried on by two different sets of persons. Hence, the Court decided that profits would be determined only as result of all operations linked to manufacture and sale, and not immediately after receipt of price of each lot sold by Assessee. 
Justice Mukherjea also contributed to the jurisprudence of Article 13 of the Constitution in Keshava Madhav Menon v State of Bombay. The Court decided that the nature of Article 13(1) was prospective, Justice Mukherjea, along with Justice Faiz Ali, provided a partial dissent. Justice Mukherjea agreed with the majority to the extent that the nature of Article 13(1) was prospective. However, in reference to inchoate matters that had not been decided at time of enforcement of the Constitution, he discussed that a law which ceases to be effective would not apply once the act becomes void.
His contributions to jurisprudence of delegated legislation was marked by Delhi Laws Act, 1912, In re v. Part 'C' States Laws Act. Justice Mukherjea stated that the power to legislate which is conferred on the Parliament does not translate to a power to delegate. He noted, however, that the Constitution envisages that the legislature can conditionally legislate. This means that the legislature can lay down certain conditions which upon getting triggered can make a legislation applicable to a particular area. He further observed that in case of policies laid down in Acts in broad terms, the responsibility to formulate the policy can generally pass to the legislature. On the question of the delegation of power upon the legislature to make modifications and alterations, he and Justice Bose noted that by modification, the policy itself should not be changed. They noted that only those alterations should be permitted that  are made according to suitability of local conditions and simultaneously keeping the core of the policy intact.