E.S. Venkataramaiah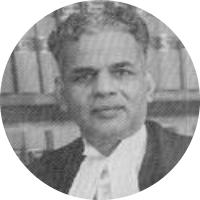 E.S. Venkataramaiah
Former Chief Justice of India
Assumed Office19th Jun, 1989
Retired On17th Dec, 1989
Previously
Judge of the Supreme CourtMarch 8th 1979 - June 19th 1989
Permanent Judge of the Karnataka High CourtNovember 20th 1970 -March 7th 1979
Additional Judge of the Karnataka High Court 25th June 1970 - November 19th 1970
Special Government Pleader June 5th 1969 - March 4th 1970
Profile
Chief Justice Engalaguppe Seetharamiah Venkataramiah enrolled as an advocate in the Karnataka High Court (then known as the High Court of Mysore) on January 5th 1948. He worked as a Special Government pleader starting from June 1969. He served in this position until March 5th 1970, when he was appointed as Advocate General of Mysore.
On June 25th 1970, he was appointed as an Additional Judge of the Karnataka High Court. On October 11th 1970, he became a Permanent Judge of the Karnataka High Court, where he served for nearly 9 years. On March 8th 1979, he was elevated to the Supreme Court. He became the Chief Justice of India on June 19th 1989 and retired at the end of the same year on December 17th.
During his term at the Supreme Court, he was a part of benches that pronounced 720 judgments. Of these, he authored 256 judgments.
CJI Venkataramiah primarily heard  cases on service law, criminal law and constitutional law.
Notable Judgements
In Indian Express Newspapers v Union of India (1984), the petitioners challenged the import duty placed on newspapers under the Customs Tariff Act, 1975. They argued that the increase in newspaper costs led to a drop in circulation and harmed the freedom of speech and expression. A 3-judge Bench led by CJI Venkataramiah ruled that any taxation of the newspaper industry must be within reasonable limits to not encroach upon freedom of speech and expression. The Bench then directed the Government to review its taxation policy concerning newspapers.
In M.C. Mehta v Union of India (1987), a Bench led by CJI Venkataramiah ordered tanneries in Kanpur to shut down. This judgment is one of the first to expand the right to a clean environment under the Constitution. The judgment held that the tanneries were discharging toxic effluents into the river Ganga and cannot be permitted to continue without a primary treatment plant. The Bench mandated that the tanneries must immediately establish treatment plants to minimise the adverse effects caused by the effluents.