K.G. Balakrishnan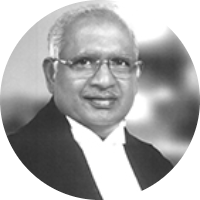 K.G. Balakrishnan
Former Chief Justice of India
Assumed Office14th Jan, 2007
Retired On12th May, 2010
Previously
Chief Justice of the Madras High CourtSeptember 9th 1999 - June 7th 2000
Chief Justice of the Gujarat High CourtJuly 16th 1998 - September 8th 1999
Judge of the Gujarat High CourtNovember 24th 1997 - July 15th 1998
Judge of the Kerala High CourtSeptember 26th 1985 - November 23th 1997
EnrollmentMarch 16th 1968
Profile
On January 14th 2007, Justice K. G. Balakrishnan forged history as the Supreme Court's first Dalit Chief Justice. He spent ten years at the Supreme Court including over three years as the Chief Justice.
Justice Balakrishnan was born on May 12th 1945. After completing his primary education, he got a bachelor's degree in Science and attended Government Law College, Ernakulam. He enrolled in the bar on 16 March 1968 and built his practice around civil and criminal matters in Ernakulam. Within five years of practice, on 10 January 1973, he was appointed as a Munsif in the Kerala Judicial Service. However, he resigned to continue his practice in the High Court of Kerala.
On September 26th 1985, Justice Balakrishnan was appointed as a Judge of the Kerala High Court. After twelve years of service, he was transferred to the Gujarat High Court in 1997. He was soon elevated as its Chief Justice on July 16th 1998. A year later, he was transferred to the Madras High Court as its Chief Justice on September 9th 1999. The next year, he was appointed as a judge of the Supreme Court on June 8th 2000.
During his ten-year term at the Supreme Court, Justice Balakrishnan authored a total of 219 judgements and a part of 787 benches. He authored the most judgments in 2001: 44.
In the ten years of his tenure at the Supreme Court, Justice Balakrishna predominantly worked on criminal matters. He was involved in landmark cases around caste-based reservation, elections and encroachment.
Notable Judgments
As the Chief Justice of India, J. Balakrishnan authored several important judgments, including the Mandal Commission case. He led the five-judge bench and gave an independent opinion on the office order which was given by the Mandal Commission. The order provided for a 27% reservation in educational institutes for Other Backward Classes (OBCs). J. Balakrishnan upheld the reservation and stated that it was required to bring social and economic equality. He asserted that it was not meant for the "creamy layer," and that only those who needed it could avail themselves of the benefits.
He decided on a high-profile case of Sanjay Dutt v. State of Maharashtra Tr. CBI, Bombay. In this case, the renowned actor, Sanjay Dutt, from Hindi Cinema was convicted for the 1993 serial blasts in Mumbai. While waiting for his appeal, he approached the Supreme Court to contest elections, as his conviction was not final. However, due to the gravity of the offence alleged, J. Balakrishnan refused Dutt's request.
Justice Balakrishnan in the Bellary Mining case upheld the High Court's decision of concretising the boundary between Karnataka and erstwhile Andhra Pradesh states. And instructed the Committee set up by a previous bench of the Supreme Court to undertake this responsibility. He stayed the mining operations until the establishment of the fence and warned that non-compliance would amount to contempt of court.