L.M Sharma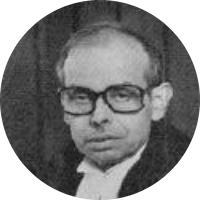 L.M Sharma
Former Chief Justice of India
Assumed Office18th Nov, 1992
Retired On11th Feb, 1993
Previously
Judge of the Supreme CourtOctober 5th 1987 - November 17th 1992
Judge of the Patna High CourtApril 12th 1973 - October 4th 1987
Profile
Justice Lalit Mohan Sharma started practice as an Advocate in the High Court of Patna in 1950. He enrolled as a Supreme Court Advocate in 1957 and was subsequently nominated as Senior Advocate. He took oath as a Judge of Patna High Court in 1973.
He was appointed as a Supreme Court judge in 1987. He succeeded M.H. Khania as the Chief Justice of India in 1992. He retired 13 months later in 1993.
In his 7 years tenure as a judge at the Supreme Court, he authored 157 judgments and was part of 406 benches.
Justice L.M.Sharma mostly worked on cases in areas of Constitutional law and Service law. He has also delivered judgments on Property, Tenancy and Criminal law.
Notable Judgements
The five-judge bench comprising Justice L.M Sharma, in Kihoto Hollohan vs Zachillhu & Ors, struck down para 7 of the Tenth Schedule (Anti-defection law) of the Indian Constitution as unconstitutional. The bench declared this provision to be unconstitutional because it takes away the scope of judicial review. However, the Bench agreed that Speakers have far-reaching powers to make decisions and that judicial review cannot be availed before such a decision is made. Justice L.M Sharma dissented from this view. He stated that the authority of the Speaker to decide a dispute under the Tenth schedule is dependent on the continuous support of the majority in the House. Hence he disagreed that the Speaker is an independent adjudicating authority and opined that he cannot be the sole arbiter in such cases.
In K Veeraswami v Union of Indian & Ors, the Court gave a 4:1 judgment holding that judges of High Court and Supreme Court are public servants within Section 2 of Prevention of Corruption Act, 1947 and Section 21 of Indian Penal Code, 1860. Further, the judges clarified that no FIR could be registered against a sitting Supreme Court judge without the approval of the competent authority as per the provisions of the 1947 Act.
In Chand Rani (dead) by LRs v Kamal Rani (dead) by LRs, the five-judge bench presided by CJI L.M. Sharma held that in a sale of immovable property there is no presumption as to time being in essence of the contract. Even if it is not the essence, the court may infer it is to be performed in a reasonable time if the conditions are from the express terms of the contract; from the nature of the property and the surrounding circumstances.
In Mohan Pandey & Ors vs Usha Rani Rajgaria & Ors, Justice L.M. Sharma held that the High Court cannot allow constitutional jurisdiction under Article 226 to be used for deciding disputes, for which remedies under the general law, civil or criminal, are available. It thus dismissed the petition filed under Article 226 for enforcement of a private right to immovable property.
In 2008, Justice L.M. Sharma passed away following a long term illness.