P. N. Bhagwati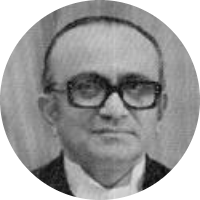 P. N. Bhagwati
Former Chief Justice of India
Assumed Office12th Jul, 1985
Retired On20th Dec, 1986
Previously
Judge of the Supreme Court of IndiaJuly 17th 1973 - July 12th 1985
Chief Justice of the Gujarat High Court September 16th 1967 - July 16th 1973
Judge of the Gujarat High CourtJuly 21st 1960 - September 15th 1967
Profile
Justice Prafullachandra Natwarlal Bhagwati was born on December 21st 1921, in Ahmedabad, Gujarat. He received an undergraduate degree in mathematics from Elphinstone College, Bombay, in 1941, and read the law at Government Law College, Bombay, in 1945. After over a decade of legal practice in the Bombay High Court, he was appointed as a Judge at the Gujarat High Court in 1960. He served as the Chief Justice of the Gujarat High Court for six years, during which he served briefly as Gujarat's Acting Governor in 1967 and 1973. Bhagwati J was appointed as a Judge at the Supreme Court in 1973. He later went on to become the 17th Chief Justice of India on July 12th 1985. He served as CJI for 18 months until December 21st 1986. 
After retiring from the Supreme Court, Bhagwati J served on several United Nations committees and missions. Bhagwati J was awarded the Padma Vibhushan in public affairs in 2007.
Bhagwati J died on June 15th 2017, at the age of 95.
During his 13 year term at the Supreme Court, he authored 342 judgments and was a part of 820 benches.
Bhagwati J mostly worked on cases about criminal law matters. He is also known for his judgments on constitutional law matters. He introduced concepts such as Public Interest Litigation and absolute liability to Indian jurisprudence.
Notable Judgments
Bhagwati J had a very expansive approach to constitutional interpretation. In the case of Francis Coralie Mullin v The Administrator, Bhagwati J held that a constitutional provision must be construed in a wide and liberal manner, rather than in a narrow and constricted sense to take into account changing social norms. In this case, Bhagwati J broadened the scope of the right to life to include the Right to Live with Human Dignity, which included adequate nutrition, clothing and shelter.
In the case of SP Gupta v President of India and Ors, a seven-judge Bench of the Supreme Court decided on the issue of appointment and transfer of judges and the independence of the judiciary. Bhagwati J highlighted the importance of increasing access to justice and held that the Court shall not insist that writ petitions be filed, by persons raising causes in the public interest and would readily respond to letters addressed to them by such individuals. 
In Bandhua Mukti Morcha v Union of India, the Supreme Court was deciding on a PIL filed to end child labour in Uttar Pradesh. Bhagwati J held in favour of bonded labourers in a stone quarry, recognised the Right to Work. He ordered state authorities to take several measures, such as directing them to work with NGOs to pay workers a minimum wage, rehabilitate the workers and create a safe work environment. 
In Maneka Gandhi v Union of India, a seven-judge Bench of the Supreme Court deliberated on the ambit of the phrase 'personal liberty' under Article 21. Bhagwati J, expanding the scope of Article 21, held that personal liberty covers all such rights that constitute the personal liberty of an individual. He added that no one can be deprived of this right except according to fair and reasonable procedure established by law.
In the case of MC Mehta v Union of India, the Supreme Court was deciding on a PIL seeking the closure of a private corporation on account of its hazardous nature. Bhagwati, J introduced the concept of absolute liability to Indian jurisprudence. He declared that hazardous or dangerous activities must be adjudicated under a heightened standard of liability that would enable courts to hold persons liable for damages if their hazardous enterprise resulted in injuries, irrespective of whether they were negligent.