P. Sathasivam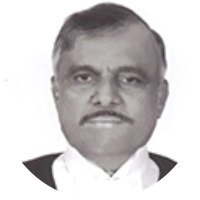 P. Sathasivam
Former Chief Justice of India
Assumed Office19th Jul, 2013
Retired On26th Apr, 2014
Previously
Permanent Judge of the High Court of Punjab and HaryanaApril 20th 2007 - August 21st 2007
Permanent Judge of the Madras High Court January 8th 1996 - April 19th 2007
EnrolmentJuly 25th 1973
Profile
Justice P. Sathasivam was the 40th Chief Justice of India and the first judge to be appointed as a Governor of a state.
Born on April 27th 1949 in Kadappanallur Village, Tamil Nadu, Justice Sathasivam attended the Government Law College, Madras. He enrolled in the Bar in 1973 and began practising in the Madras High Court. Soon after, he became an Additional Government Pleader and Special Government Pleader. He advised many state-owned corporations, municipalities and banks. After two decades of practice, on January 8th 1996, Justice Sathasivam was appointed as a permanent judged of the Madras High Court. He spent eleven years at Madras and was transferred to Punjab and Haryana in 2007. In the same year, he was elevated to the Supreme Court. Six years later, he was sworn in as the 40th CJI on July 19th 2013.
During his seven-year term at the Supreme Court, Justice Sathasivam authored a total of 338 judgements. He authored the most judgments in 2013: 66.
In the seven years of his tenure at the Supreme Court, Justice Sathasivam predominantly worked on criminal matters along with a mixture of civil, service, property and constitutional matters. He was involved in landmark cases around human rights and electoral procedures.
Notable Judgments
Justice Sathasivam delivered several landmark judgments on social justice issues. In Safai Karamchari Andolan And Ors vs Union Of India, the Court recognised manual scavenging as a practice that perpetuated untouchability and violated fundamental rights. The Court directed the state to implement the Employment of Manual Scavengers and Construction of Dry Latrines (Prohibition) Act, 1993 and laid down guidelines on compensation or rehabilitation for manual scavengers. The Court directed the Indian Railways to eliminate manual scavenging for cleaning railway tracks. In Union Of India & Anr v. National Federation Of The Blind, the Supreme Court-mandated 3% horizontal reservation for persons with disabilities in government employment. The 50% reservation ceiling limit would not apply to reservations for persons with disabilities, the Court further clarified.
Justice Sathasivam was a part of the bench that dealt with the high profile case of Yakum Memon. Memon was a prime accused in the 1993 Mumbai terrorist attack. Memon along with other accused people was sentenced to the death penalty. In an appeal, Justice Sathasivam bench upheld Memom's death penalty sentence. However, the death penalty of others was mitigated to life imprisonment due to remorse, co-operation in the investigation and dire familial circumstances.
In People's Union for Civil Liberties (PUCL) v. Union of India, the Court mandated that election ballots have the 'None of the Above' (NOTA) option. Justice Sathasiva while speaking for the bench, recognised that electors should have the choice to not vote for any candidates and convey their disapproval to the political parties. This would lead to the political parties fielding better candidates.
In another important election-related case Justice Sathasivam led bench made it mandatory for Lok Sabha nominees to fill all information in the nomination paper without leaving any blanks. The Court recognised the electors right to information about their elected candidates and ordered that any incomplete application would be invalid [Resurgence India v. Election Commission of India].