RM Lodha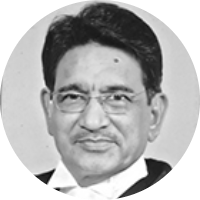 RM Lodha
Former Chief Justice of India
Assumed Office27th Apr, 2014
Retired On27th Sep, 2014
Previously
Judge of the Supreme Court of IndiaDecember 17th 2008 – April 27th 2014
Chief Justice of the Patna High CourtMay 13th 2008 – December 16th 2008
Judge at Rajasthan High CourtFebruary 2nd 2007 – May 12th 2008
Judge at the Bombay High CourtFebruary 16th 1994 – February 1st 2007
Permanent Judge of the Rajasthan High CourtJanuary 31st 1994 – February 15th 1994
EnrollmentFebruary 1973
Profile
Justice R. M. Lodha was a judge in the Supreme Court for six years and served as the 41st Chief Justice for six months.
Born on 28th September 1949, to Justice S.K. Mal Lodha, former Judge of Rajasthan High Court, Justice Lodha attended the Jodhpur University. He earned a Bachelor of Science and Bachelor of Law degrees. In 1973 he enrolled in the bar and practised in Jodhpur for four years before shifting to Jaipur. His practice was exclusively before the High Court.
Between 1990-92 the Central Government appointed him as its Standing Counsel before the Rajasthan High Court. A few years later, on 31 January 1994, Justice Lodha was appointed as a permanent judge of the Rajasthan High Court. After a short stint of a month and a half, he was transferred to the Bombay High Court. Justice Lodha spent the majority of his judicial career – thirteen years – at the Bombay High Court. In 2007 he was transferred to the Rajasthan High Court and within a year was transferred and appointed as the Chief Justice of Patna High Court. Justice Lodha was finally elevated to the Supreme Court on 17th December 2008.
During his six-year term at the Supreme Court, Justice Lodha authored a total of 273 judgements. He authored the most judgments in 2009: 66.
In the six years of his tenure at the Supreme Court, Justice Lodha predominantly worked on criminal matters. He was involved in landmark cases around corruption and extra-judicial encounters.
Notable Judgments
As a Chief Justice, J. Lodha led a five-judge constitutional bench in Subramanian Swamy v. Director, CBI. The petitioners challenged section 6(A) of the Delhi Special Police Establishment Act, 1946 which exempted a certain cadre of civil servants from investigation without prior permission of the Central Government. Writing for the Bench, J. Lodha struck down the Section on the ground of equality.
In People's Union for Civil Liberties v. the State of Maharashtra, a two-judge constitutional bench led by J. Lodha was faced with a question of extra-judicial encounters by the police. PUCL furnished statistics showing the killing of around 135 people in two years. J. Lodha noted that the extra-judicial encounters were a direct violation of the right to life under Article 21: He mandated that police encounters required a separate investigation and laid down guidelines to govern it.