S. R. Babu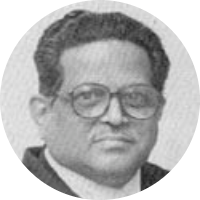 S. R. Babu
34th Chief Justice of India
5th Chairperson of the National Human Rights Commission
Assumed Office2nd May, 2004
Retired On31st May, 2004
Previously
Permanent Judge of the Karnataka High CourtFebruary 19th 1988 - September 24th 1997
EnrolmentJanuary 4th 1969
Profile
Born on June 1st 1939 in Bangalore, Justice Rajendra Babu pursued his LLB from Raja Lakhamagouda Law College in Belgaum. He enrolled as an advocate on the 4th of January in 1969. Justice Babu's career as an advocate included representing the Income Tax Department as Additional Standing Counsel and the Karnataka Government as the Government Pleader in the High Court.
Justice Babu had always been well practised in taxation, constitutional law and civil matters. He was appointed as a permanent judge of the Karnataka High Court on February 19th, 1988 and was elevated to the Supreme Court on the 25th of September in 1997.
Justice S. Rajendra Babu served as the 34th Chief Justice of India. He was appointed on May 2nd, 2004 and retired on June 1st 2004, making him the second shortest serving Chief Justice.
During his tenure as Supreme Court Justice, Justice Babu authored 426 judgements. He authored 114 judgements in the year 2001 alone.
Notable Judgements
Of the 426 judgements written during his tenure, he wrote mostly on service (18.8%), labour and industrial (14%) and constitutional laws (13.6%).
Kishori v. State of Delhi (1999) is one of his most significant judgements. Justice Banu invokes mob psychology to commute the death penalty. This case was on the 1984 anti-Sikh riots in the wake of the assassination of Prime Minister Indira Gandhi. In determining whether the accused had to be punished with the death penalty, Justice Babu differentiated between an individual's actions on their own volition and one who has been pressured and impassioned by a mob seeking justice. If the accused acted on the latter, he/she could not be sentenced to capital punishment. Based on this, capital punishment was reduced to life imprisonment.
Daniel Latifi & Anr v. Union of India (2001) challenged the constitutionality of the Muslim Women (Protection of Rights on Divorce) Act, 1986. The Act restricted the maintenance benefits for Muslim divorced women only for iddat period of around three months. This led to inconsistencies in maintenance benefits among divorced women from different religious backgrounds. The bench led by J. Babu upheld the constitutionality of the Act. However, he read into the Act, the requirement of ensuring 'just and reasonable' maintenance for Muslim women.
Following his retirement, in April 2007 Justice Rajendra Babu became the chairperson of the National Human Rights Commission. Under his chairmanship, the NHRC increased the compensation and streamlined cases for victims of human rights violations while paying special attention to increasing local, ground-level awareness of human rights.