S.R. Das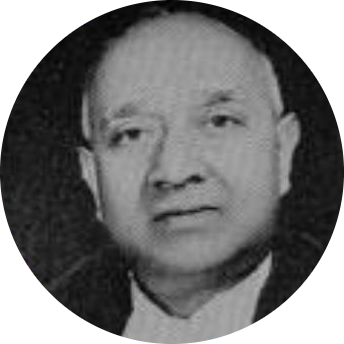 S.R. Das
Former Chief Justice of India
Assumed Office1st Feb, 1956
Retired On30th Sep, 1959
Previously
Acting Chief Justice of IndiaSeptember 5th, 1955 – October 31st, 1955
Sitting Judge of the Supreme Court of IndiaJanuary 26th, 1950 - January 31st, 1956
Chief Justice of East Punjab High CourtJanuary 19th, 1949 - January 19th, 1950
Permanent Judge of Calcutta High CourtNovember 11th, 1944 - January 19th, 1949
Additional Judge of Calcutta High CourtDecember 1st, 1942 - November 10th, 1944
Profile
Early Life and Education
Born in Calcutta, West Bengal on October 1, 1894, Justice Sudhi Ranjan Das came from a family of many judges, barristers and prominent politicians. He studied in Rabindranath Tagore's school, and was supposedly one of his favourite pupils. He became the first Indian student to graduate with a first class from University College, London where he graduated with an LLB. He was thereafter called to the bar from Gray's Inn in 1918. 
Career as an Advocate
In 1919, Justice Das returned to India to join the Calcutta High Court Bar and lectured part time at the Calcutta University Law College. He continued his practice at the Calcutta High Court for twenty three years.
Career as a Judge
Justice Das was appointed as an Additional Judge of the Calcutta High Court on 1st December, 1942 until he was confirmed to be a Permanent Judge on 11th November, 1944. On 19th January, 1949, he accepted a transfer to Shimla by the Union Home Minister Sardar Patel, where he joined as Chief Justice of the then East Punjab High Court. That year, he became the Chairman of the High Court Arrears Committee, tasked with the responsibility of decreasing the backlogs of cases in high courts.
He was the last judge to be appointed to the erstwhile Federal Court before it was to be replaced by the Supreme Court of India and served as a judge in a young Supreme Court. In 1951, he became the Chairman of the All-India Bar Committee, which was responsible in producing a report that later led to the establishment of a national unified bar.  Being the senior most associate judge, he served as Acting Chief Justice between September 5 and October 31, 1955, and again from  December 1 to December 31, 1955, when former Chief Justice Mukherjea suddenly fell unwell. When CJI Mukherjea prematurely retired on 31st January, 1956, Justice Das was appointed the fifth Chief Justice of India till his retirement on 1st October, 1959.
Administration of the Court
Justice Das's tenure as the Chief Justice was marked by significant logistical decisions in the operation of the Court, some of which have had lasting implications. One of his earliest initiatives was to increase the strength of the Court from eight to eleven judges and ten new, very distinguished, judges joined the Supreme Court during his tenure. His first appointee was S.K. Das, the Chief Justice of the Patna High Court, to the Supreme Court, an act that was embroiled in controversy since Das was a career ICS officer without any law degree or barrister credentials. He was also instrumental in bringing Justice Vivian Bose back to the bench after his retirement. The median age of all those appointed in his tenure was the lowest in the Supreme Court's history till then. Because of the relatively young age of his appointees, his appointments largely shaped the Court's future and six of those appointed went on to serve as Chief Justices between 1964-71. This included the likes of P.B. Gajendragadkar, K Subba Rao and M. Hidayatullah. His tenure was also marked by certain discussions on executive interference in judicial appointments which arose from a remark that there was a "general impression…[of]…executive influence" from the 14th Law Commission Report and was later contested in the Parliament by the Home Minister, who labelled the allegation "absolutely incorrect." 
Tenure at the Supreme Court in Numbers
Figure 1 shows that during his tenure, Justice Das authored 160 judgements and was a part of 560 benches.
Justice Das' judgments dealt mostly with Constitutional Law (30%), followed by Direction Taxation and Criminal Law (12% each).
Notable cases
In a five-Judge Bench decision in State of Bihar v Kameshwar Singh of Darbhanga, the Supreme Court struck down two provisions of the Bihar Land Reform Act, 1950. Earlier, the Patna High Court had declared the Act void which had led to the enactment of the First Amendment which essentially excluded land reform legislations from the ambit of judicial review. The majority agreed with the High Court and struck down certain provisions of the Act on grounds that certain entries in the lists mentioned that in such cases of land acquisition, full compensation would have to be paid and also that the requirement of a "public purpose" for compulsory acquisition existed independently from Article 31(2). Justice Das, delivered a dissent noting that the requirement of "public purpose" for State acquisitions and provision of compensation were both located in Article 31(2). Since appeals to Article 31(2) were restricted by Articles 31(4), 31A and 31B, it was improper to locate these anywhere else.
He was assertive on the idea that "public purpose" in State acquisition was implied in the original Article 31 and thus, it was not necessary to look elsewhere. In Raja Suriya Pal Singh v Uttar Pradesh, he contested Dr B.R. Ambedkar's proposition that the U.P. Zamindari Abolition and Land Reforms Act, 1951, was opposed to "the spirit of the Constitution." He noted, in response, a repeat of his claims in Kameswar Singh to note that the existence of a public purpose and providing compensation are founding in the provisions of Article 31(2), and commenting on Ambedkar, noted that that it was "not necessary to have recourse to any spirit of the constitution, for the letter of the Constitution itself requires the two requisites."
In Rashid Ahmed v Municipal Board, Kairana, there was a dispute regarding a municipal bye-law which tended to create a monopoly in local vegetable trade by excluding established private dealers. Justice Das struck down the law by stating that this was not a reasonable restriction of the petitioner's right to carry on trade or business. 
As the Chief Justice, Justice Das delivered the judgement in M.N. Qureshi v Bihar. Once again, he upheld a commitment to the freedom of trade by noting that the State's ban on cow slaughter was unreasonable since certain categories of cattle should be excluded from the ambit of the ban, and further there "no question can arise" on there being a total prohibition of the rights of butchers to carry on their trade or business.
After the Court
After concluding his tenure as the Chief Justice of India, he joined as the vice-chancellor of Visva Bharati University, Shantiniketan where he held the position until 1965. In 1961, he became the chairman of the Punjab Commission, 1961 which arose out of the agitation of Master Tara Singh and the Akali Dal. In 1963, he served as a one-man 'Commission of Inquiry on Certain Allegations Against Pratap Singh Kairon, Chief Minister of Punjab, 1963' to which he was appointed by the Home Ministry. Later, he served as a member of University Grants Commission, vice president of Indian Council for Cultural Relations, and chairman of board of trustees on The Statesman newspaper.