VN Khare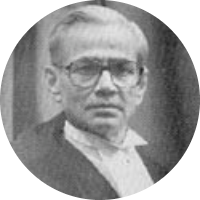 VN Khare
Former Chief Justice of India
Assumed Office19th Dec, 2002
Retired On1st May, 2004
Previously
Chief Justice of the Calcutta High CourtFebruary 2nd 1996 - March 20th 1997
Permanent Judge of the Allahabad High CourtJune 25th 1983 - February 1st 1996
EnrollmentNovember 28th 1961
Profile
Chief Justice Visheshwar Nath Khare was born on May 2nd 1939, in Allahabad. Basing himself close to home, he graduated with an L.L.B from Allahabad University and enrolled with the Allahabad Bar on the 28th of November, 1961. He was appointed as Chief Standing Counsel for the Uttar Pradesh Government before being appointed as a permanent judge in the Allahabad High Court on June 25th 1983.
On February 2nd, 1996 he was appointed as the Chief Justice of the Calcutta High Court and was elevated to the Supreme Court a year later on the 21st of May. Finally, he was appointed as the 33rd Chief Justice of India on the 19th of December, 2002 and retired in 2004 on 2nd May.
Chief Justice V.N. Khare wrote 223 judgments in his 8-year career. His most Active year was 2000 where he was present on the bench for 141 matters and wrote 43 judgments.
Of the 223 judgments Chief Justice Khare has written, his authorship has largely been regarding property (16.6%), civil (13.9%) and service (13%) related matters.
Notable Judgments
As an advocate, Justice Khare represented Prime Minister Indira Gandhi in the Allahabad High court in the famous case State of Uttar Pradesh v. Raj Narain. The case dealt with alleged electoral malpractice in the Prime Ministers's constituency as one of her aides assisting her in the election was also a government servant. Justice Khare petitioned for the Prime Minister to be examined by a commission as opposed to testifying in court which was declined by the presiding Justice Sinha and strongly opposed by the U.P. Advocate general. Justice Sinha proceeded to find Prime Minister Indira Gandhi guilty in the Allahabad High Court and barred her from holding elected office for six years. The fallout of this case contributed to the declaration of Emergency on June 25th 1975.
On January 23rd 2004, while presiding as Chief Justice he passed a judgment in the case of Union of India v. Navin Jindal, upholding the fundamental rights of citizens to fly the national tri-colour flag. Restrictions had been placed before this judgment, only allowing the display of the flag on certain dates and only allowing Government buildings to display the flag regularly. The court held such restrictions abrogated the fundamental right of freedom of expression and the then 'Flag Code of India' was just a series of executive instructions and not law.
Most Notably, Justice Khare decided to re-open the Best Bakery Case that was a result of the 2002 riots in Gujarat. The appeal was filed by the NHRC. On account of collusion between the prosecution and the accused, in this case, multiple instances of witness intimidation were recorded. A re-trial was ordered after Justice Khare heard the appeal to rectify this miscarriage of justice.