Court Data
46 Suo Moto Cases in the Supreme Court from 1990-2021
The Supreme Court of India has often taken up cases 'suo moto' without any petition being filed, or interest being brought before them.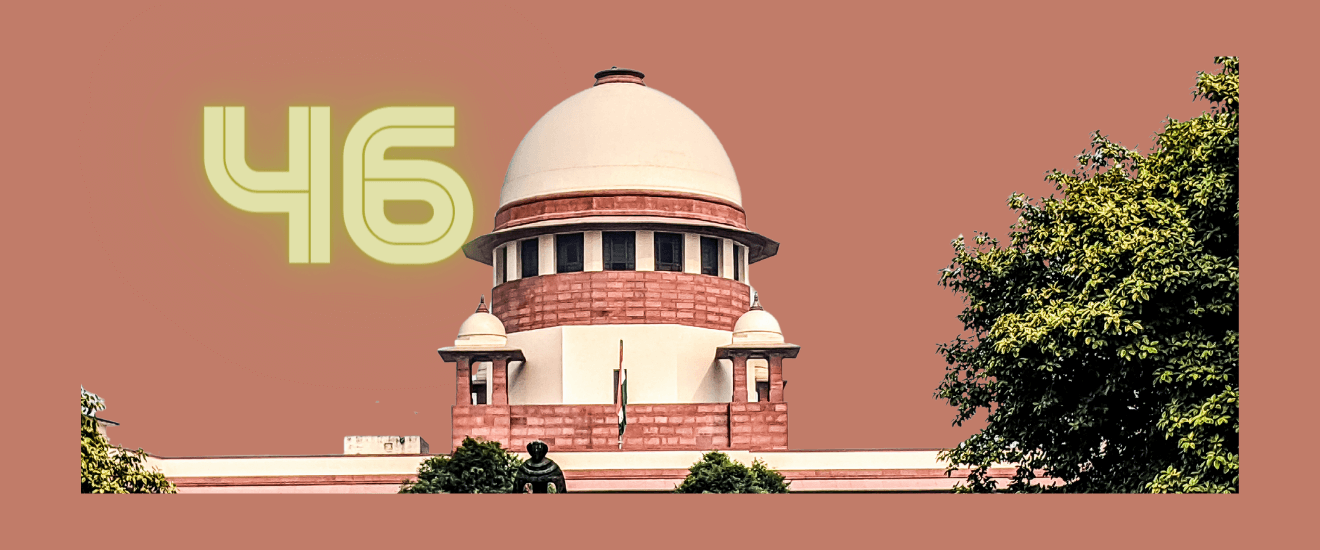 The Supreme Court of India has often taken up cases 'suo moto'. This means they take up cases by their own notice, without any petition being filed, or interest being brought before them.
While such a power is granted by s. 23 of the Contempt of Courts Act, 1971 for contempt of court, the use of the procedure in writ or judicial review jurisdiction has been novel. It developed from the relaxation of procedure when considering PILs. The first instance is often considered to be in the Sunil Batra case. The procedure for suo moto petitions was formalised only in 2014 by the adoption of Order 38, Rule 12(1)(a) in the Supreme Court Rules, 2013.
Data from 1990- 2018 is taken from Marc Galanter & Vasujith Ram, 'Suo Motu Intervention and the Indian Judiciary', Chapter 4  in Rosenberg et al (eds), A Qualified Hope (CUP 2019). This data was manually sourced from various reports, which as authors note, is prone to some human error. Especially because until the 2010s, the Court did not count its suo moto petitions separately. Data from 2018-May 2021 has been taken from the Supreme Court of India's website.
In this post, we look at the use of 'suo moto' cognisance only in the Court's writ/review jurisdiction. We consider the number of cases and frequency from 1990-2021. And also look at the nature of the cases instituted in this period.
The Court has initiated a total of 46 suo moto cases in this time period. The number of cases has seen a gradual rise over the years. One of the earliest cases was taken up in 1994, to address pollution in the Yamuna river. It is still pending disposal. Interestingly, one of the most recent suo moto cases in 2021 also looks at pollution in rivers more broadly.
The highest number of suo moto cases in a year (10) was in 2020, a majority of them dealing with fallout of the Covid pandemic. Within the first 3 months, 2021 has already had 3 new suo moto cases.
In the last 27 years, 50% of suo moto cases were taken up in the last 3 years alone. The steepest increases have been in 2014 (4x from 2013) and 2019 (2.33x from 2018).
Around 18 of these cases are still pending. This is around 40% of the total cases. However, some of these cases issue orders on a 'continuing mandamus'. This means they will remain open to review the situation and issue fresh orders without having to institute a new case. For example, the case dealing with air pollution in Delhi has been kept pending for a continuing mandamus, even after orders were issued on prevention of stubble burning.
The nature of matters dealt with by the Court in suo moto cases has seen a shift over time.
Cases that deal with a 'particular issue' refer to issues that are generally systemic in nature, but the scope of which is restricted to one particular place or time. For example, addressing pollution around Delhi. Covid cases are included in this category. There have been 9 suo moto cases dealing with the fallout from Covid.
'Particular incidents' refer to issues taken up with reference to an incident involving a fixed number of people. For example, the case that dealt with a fire that killed 25 asylum inmates in Tamil Nadu. Between 1994-2014, 61% (11 out of 18) of all suo moto cases dealt with a particular incident. However, from 2015-2021, only 14% (4 out of 28) of cases have dealt with a particular incident.
'Systemic issues' refer to broader matters, such as the approach of the criminal justice system to sexual violence cases. 69% (9 out of 13) of cases dealing with systemic issues were initiated from 2015 onwards.
Click here for our post on the source from which Courts have picked up suo moto cases.