Analysis
Justice Nariman Retires on August 12th, Wrote 307 Judgments
Elevated to the Supreme Court at the age of 58, Justice Rohinton Nariman's tenure spanned 7 years and 307 judgments.
Justice Rohinton Fali Nariman is set to retire on August 12th 2021. He was designated as a senior advocate at the age of 37. It's widely reported that CJI Venkatachaliah amended the rules to give him this designation at a very young age.
On July 7th 2014, he was elevated as a judge of the Supreme Court, at the age of 58. We provide an overview of Justice Nariman's tenure at the Supreme Court.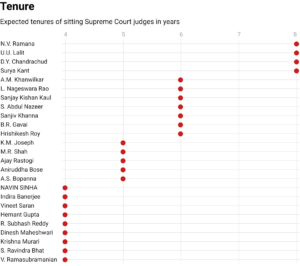 Judgments written
At the Supreme Court, Justice Nariman authored 307 judgments, writing an average of 43.9 judgments per year. When we compare this to a sitting judge who writes an average of 26.7 judgements per year, Justice Nariman's output appears to be rather high. While numbers are useful to understand the judicial output of a judge, these do not necessarily account for the impact of the judgments. Justice Nariman leaves the Supreme Court after having written the second-highest number of judgements. His rate of judgements is the fourth-highest among sitting SC judges.

Most of Justice Nariman's judgments were on matters dealing with different forms of taxation, which includes excise and customs at 14.3% of judgments. This is followed by matters on arbitration law (approximately 11.8%), civil law (8.2%), constitutional law (7.9%) and criminal law (7.7%). Incidentally, Justice Nariman's practice as a lawyer was primarily focussed on commercial law.
In our next post, we look at Justice Nariman's most notable judgments.