A.M. Khanwilkar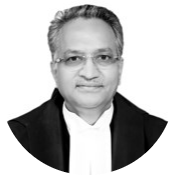 A.M. Khanwilkar
Sitting Judge of the Supreme Court of India

Assumed Office13th May, 2016
Retires On29th Jul, 2022
Previously
Chief Justice of the Madhya Pradesh High CourtNovember 24th 2013 - May 13th 2016
Chief Justice of the Himachal Pradesh High CourtApril 4th 2013 - November 23rd 2013
Permanent Judge of the Bombay High CourtApril 8th 2002 - April 3rd 2013
Additional Judge of the Bombay High CourtMay 29th 2000 - April 7th 2002
EnrolmentFebruary 10th 1982
Profile
Justice Ajay Manikrao Khanwilkar litigated for 18 years before he was appointed an Additional Judge of the Bombay High Court in March 2000. He was confirmed as a permanent Judge in April 2002.
In April 2013, Khanwilkar J was appointed as Chief Justice of the Himachal Pradesh High Court. During his tenure, he curbed the Chief Minister's arbitrary exercise of the power of transfer by holding that the administrative departments' views must be ascertained before ordering transfer on the mere recommendation of a Minister or MLA.
In November 2013 Khanwilkar J was appointed as the Chief Justice of the Madhya Pradesh High Court. He was elevated as Judge of Supreme Court on May 13th 2016.
Notable Judgments
In the Social Action Forum for Manav Adhikar v Union of India, a bench comprising the then Chief Justice Dipak Misra, Khanwilkar and Chandrachud JJ modified the 2017 guidelines issued by a two-judge bench of the Supreme Court to curb the alleged misuse of section 498A of the Indian Penal Code. Section 498A pertains to subjecting a wife to cruelty.
A three-judge bench of Chief Justice Dipak Misra, Khanwilkar and Chandrachud JJ presided in the case of Kaaviyaa Nakkiran v State of Tamil Nadu ordered Tamil Nadu's medical colleges to use the National Eligibility cum Entrance Test (NEET) as the only basis for admission. The State Government's plea to accommodate students from rural backgrounds was denied.