RC Lahoti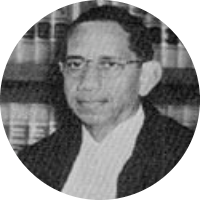 RC Lahoti
Former Chief Justice of India
Assumed Office1st Jun, 2004
Retired On31st Oct, 2005
Previously
Judge of the Delhi High CourtFebruary 7th 1994 - September 11th 1998
Permanent Judge of the Madhya Pradesh High CourtAugust 4th 1989 - February 6th 1994
Additional Judge of the Madhya Pradesh High CourtMay 3rd 1988 - August 3rd 1989
District and Sessions Judge of the State Higher Judicial ServicesApril 1977- May 1978
Enrollment1962
Profile
Justice Ramesh Chandra Lahoti served as the 35th Chief Justice of India. He was appointed on June 1st 2004 and retired on October 31st 2005. He served as Chief Justice for almost 18 months after his predecessor (Chief Justice Rajendra Babu) served for less than a month.
Justice Lahoti was born on the 1st of November in 1940 in the district of Guna, Madhya Pradesh. He graduated from Holkar College, Indore with an L.L.B and in 1962 he enrolled as an advocate in his home district. Justice Lahoti was recruited directly to the State Higher Judicial service in April 1977 where he was appointed as a Sessions Judge. He resigned as a Sessions judge a year later in May 1978.
On the 3rd of May, 1988, Justice Lahoti was appointed as a judge to the Madhya Pradesh High Court and was transferred to the Delhi High Court in February, 1994. On December 9th, 1998, Justice Lahoti was appointed as a Supreme Court Justice.
During his nearly 7-year tenure in the Supreme Court, Justice Lahoti authored 342 judgements. He authored 66 of his judgements (his most in a single year) in the year 2002.
Of the 342 judgements written by Justice Lahoti during his tenure, his authorship was mostly on criminal (21.6%), civil (18.1%) and tenancy (14.9%) related matters.
Notable Judgments
Justice Lahoti presided over a 3-judge bench Sarbananda Sonowal v. Union of India. The Chief Minister of Assam, Sarbananda Sonowal, filed a petition asking for the repeal of the Illegal Migrants (Determination by Tribunals) Act, 1983. The Act placed the responsibility to prove an individual as an illegal migrant upon the police as opposed to the individual having to furnish proof of citizenship, as provided in the Foreigners Act, 1946. The Court in a judgement authored by Chief Justice Lahoti repealed the Act because it was violative of Articles 14 and 355 of the Constitution of India. It was held that the reversal of this burden of proof in cases under the IMDT Act acted as a "barrier" to the detection of illegal migrants and was discriminatory against the people of Assam.
The former Chief Justice has also served as an arbitrator in many high-profile matters after retiring as Chief Justice. In 2015 Justice Lahoti was named the arbitrator in the Vodafone tax case that arose over Vodafone's acquisition of Hutchison Whampoa Ltd's telecom assets in India. The dispute pertained to issues of retrospective taxation, capital gains taxes and transfer pricing.