Our Pre-Judgment Matrix describes the possible outcomes in the Decriminalisation of Adultery case. Adultery is currently a criminal offense under Section 497 of the Indian Penal Code (497 IPC). The Court will judge whether adultery ought to be decriminalised.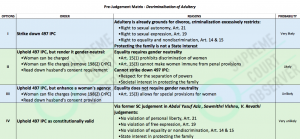 The State argued for only partially striking down Section 497 IPC. They argued that 497 IPC should stand because protecting the family is in the legitimate interest of the State. They agreed that changes to 497 IPC need to be made in order to make it gender neutral.
The petitioners argued for striking down 497 IPC completely. They argued that the State has limited role in protecting the family. They drew the Court's attention to Puttaswamy, which establishes the fundamental right to privacy. They argued that private sexual choices do not fall under the jurisdiction of criminal courts.