Analysis
A Tale of Two Constitutions: An Excerpt from 'A Dismantled State'
The abrogation of Article 370 threatens the safeguards acknowledging special arrangements in other states too, writes Anuradha Bhasin.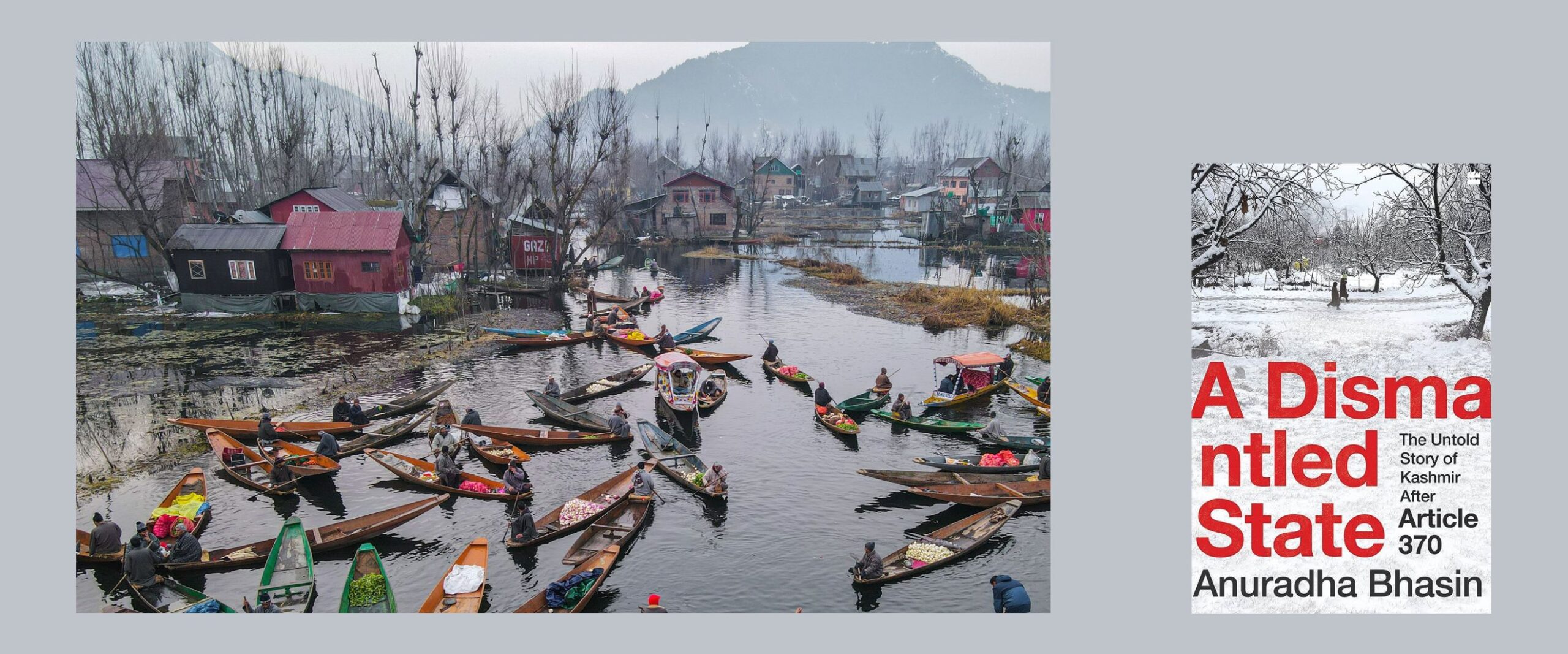 Right from the very beginning, New Delhi had begun to manipulate Jammu and Kashmir's politics and continuously attempted to erode its special status and hollow out Article 370, particularly after Sheikh Abdullah's deposition and arrest in 1953. The Presidential Order of 1954 and subsequent orders allowed the extension of almost the entire Constitution of India to Jammu and Kashmir. Ninety-four out of ninety-seven entries in the Union List were applicable to Jammu and Kashmir, 260 out of the 395 Articles of the Constitution as well as seven out of the twelve Schedules of the Indian Constitution were extended to the state before  Article 370 was completely abrogated on 5 August 2019. 
Article 35 A, which defined the classes of persons who are, or shall be, permanent residents of the state of Jammu and Kashmir, or conferring on such permanent residents any special rights like employment in the state government and acquisition of immovable property, came into being through one such presidential order but only to lend clarity to the definition of Jammu and Kashmir's 'permanent resident'. Previously the presidential orders had been passed only after the state legislature made recommendations to that effect, even though New Delhi managed to accomplish this feat with ease owing to the puppet governments it continued to patronize in Jammu and Kashmir. 
The previous orders were against the letter and spirit of J&K's accession to India. The 2019 move was more so as it substituted the state legislature with the governor, a Centre's appointee, and virtually became a case of the Central government taking its own concurrence to decide on the constitution of Jammu and Kashmir and its constitutional link with rest of the country. 
Last seven decades have witnessed political and constitutional fraud being perpetrated on Kashmir as Article 370 had been hollowed out and reduced, mostly through presidential orders and often legitimized with the consent of the state legislature. As former prime minister Gulzari Lal Nanda said in 1964: 'Article 370 is neither a wall nor a mountain, but it is a tunnel. It is through this tunnel that a good deal of traffic has already passed and more will.' 
…
The move was no less dangerous for Indian democracy as it struck at the heart of India's asymmetric federalism. Federalism is a part of the basic structure of India's Constitution, as upheld by the Supreme Court. Article 370 was an essential facet of India's federalism because it governed the relationship of the Union with Jammu and Kashmir. 
Pratap Bhanu Mehta aptly summed up the stealthy measures as a new form of repression 'reminiscent of the Reichstag or Chinese constitutional ideology that sees federalism as an obstacle to a strong state and homogenous culture' and expressed concerns about India's asymmetric federalism arrangements outside of Kashmir. He warned that if such precedents of unilaterally declaring states to be union territory were to be applied elsewhere, India will simply become 'a union of Union Territories that happen to be a state at the discretion of the Centre'. 
…
…On 22 March 2021, the Modi government did a Kashmir on Delhi by tabling the GNCT (Amendment) bill which lays down that 'government' in Delhi means the 'lieutenant governor'. It was immediately passed by the Lok Sabha, and two days later by the Rajya Sabha. The new law gives Delhi's lieutenant governor powers to override laws, thus reducing elected representatives to irrelevant figureheads. This is a grave threat to Indian democracy, its federal structure and the system that functions through elected representatives and government. Ironically, Delhi's chief minister Arvind Kejriwal, who justified the dilution of J&K's special status and the unconstitutional manner in which it had been done by equating the governor with the elected legislature, found himself at the receiving end of the same treatment. This may not be the last experiment of its kind, either in Delhi or elsewhere. It could as well be replicated in other states. 
The anxieties of the probability of the Centre repeating the J&K experiment elsewhere are deeper in several other states with certain special provisions. Article 35A closely resembles Article 371 of India's Constitution that offers similar safeguards to the people of the northeastern states with respect to government jobs, ownership and transfer of land and its resources. Under Article 371A, central laws do not automatically apply to Nagaland unless approved by its legislature. The state enjoys full autonomy with respect to customary practices and laws with respect to land ownership and its resources. Similarly, in Manipur (Article 371C) and Arunachal Pradesh (Article 371H), the local laws safeguard the land and customary rights of tribals. With respect to Sikkim (Article 371F), even the Supreme Court's jurisdiction has been restricted to issues of treaties. Ownership of property is also reserved in Uttarakhand, Himachal Pradesh and parts of Jharkhand and Chhattisgarh, among other states. Maharashtra and Gujarat also enjoy a special status under Article 371…. 
…While the presidential order of 5 August 2019, provoked valid concerns about the erosion of autonomy, property rights and livelihoods in these states, particularly the conflict ridden states in the northeast, the butchery of Article 370 on grounds that it was regressive and militated against the principle of equality revealed to the masses of J&K that there were two separate yardsticks to deal with their part of the world and elsewhere, engendering a sense of second-class citizenship – emasculated, humiliated and disenfranchised. 
The people of Jammu and Kashmir had not been consulted about their future by circumventing the constitutional provisions. Before the Union home minister moved the bill, 13.65 million people, whose fate Parliament was about to decide, were under siege, virtually imprisoned. The constituent assembly of Jammu and Kashmir did not exist on 5 August 2019. The legislative assembly was dissolved. No consultations were held with any of the stakeholders in J&K, turning this exercise into a virtual day-light robbery and inflicting a sense of humiliation among its citizens. Not only was the state's special status – which gave the people certain rights and benefits – revoked, but Jammu and Kashmir was also divided and degraded into two union territories, a status that was much lower than that of a fully integrated state. The presidential order was ratified by Parliament under the J&K Re-Organisation Act that was passed on 9 August 2019. 
The presidential order on Article 370 is not beyond judicial scrutiny. Legally and constitutionally, it is challengeable. Several petitions challenging the move were filed in the apex court within weeks of the action. …While the litigations were put on hold, the government continues to extend Central laws to J&K and repeal the erstwhile state's own laws. 
A week into the stringent Covid lockdown in March 2020, when Kashmir seamlessly transitioned from one lockdown to another, the government changed or repealed about 100 laws, mostly purging the word 'permanent residents' from the several clauses of various laws, and amended the Civil Services Recruitment Act by replacing 'permanent resident' with 'domicile'. More laws have been adapted, scrapped and altered ever since in the most arbitrary manner. Automatically, the clauses in all the Acts under the J&K constitution, particularly with respect to jobs and land ownership, which required proof of being permanent resident – possession of a PRC – have been dispensed with. 
Articles 370 and 35A gave special rights and privileges to the natives of J&K in terms of jobs and admissions to higher educational institutes as well as purchase of land and immovable properties. The new laws thus are aimed at completely demolishing the previous social and economic structures. As noted Delhi-based academic Badri Raina pointed out, these legal changes without a duly elected legislature in place signal that the reading down of Article 370 and abrogation of 35A are fait accompli…. 
…
Technically, on 5 August 2019, India marched from conditional accession to complete integration, shedding all pretence of democracy by gagging the citizens. Within Kashmir Valley, the move continues to provoke debate and discussion. The move is seen as a moment that has redefined the relationship between India and J&K under Article 370. Two kinds of opinions are common. 'Article 370 made us an autonomous part of India. Now we are occupied', is an oft heard comment from Kashmiris who had some faith in Indian democracy. For the supporters of 'Azadi', it was a moment of schadenfreude. 'We were never part of India. Now, they have also broken the only legal link,' they say. Both kinds of opinion-holders understand that the destruction of the compact Jammu and Kashmir made with India signals the beginning of their gradual disempowerment and marginalization. A more universal echo in Kashmir is: 'They don't want us; they want our territory.' 
…
This was disturbing for me both as a citizen and as a peace activist. Living in a conflict area does not bestow on you the privilege of devoting your life only to your profession and personal sphere. Many of us have had to stick our necks out and walk that extra mile to keep the torch of peace alive. In view of the complex history of the region and its contested narratives within, many like me who engaged in peacebuilding activities were aware that any tampering with Article 370 could well ignite an inferno and choke the tunnels that we had so painstakingly dug into the barren soils polluted by violence, division and hatred. Both as a peace activist and a citizen I seem to have been robbed of all agency in that very act of uprooting my world and placing it into a new orbit. 
(Excerpted from Chapter 2 of Anuradha Bhasin's A Dismantled State: The Untold Story of Kashmir After 370. Published by HarperCollins India in 2022)