Analysis
Justice Indira Banerjee's Judgments: Rent Control, Elections and Criminal law
Justice Indira Banerjee's Judgments have left a mark on a variety of subjects.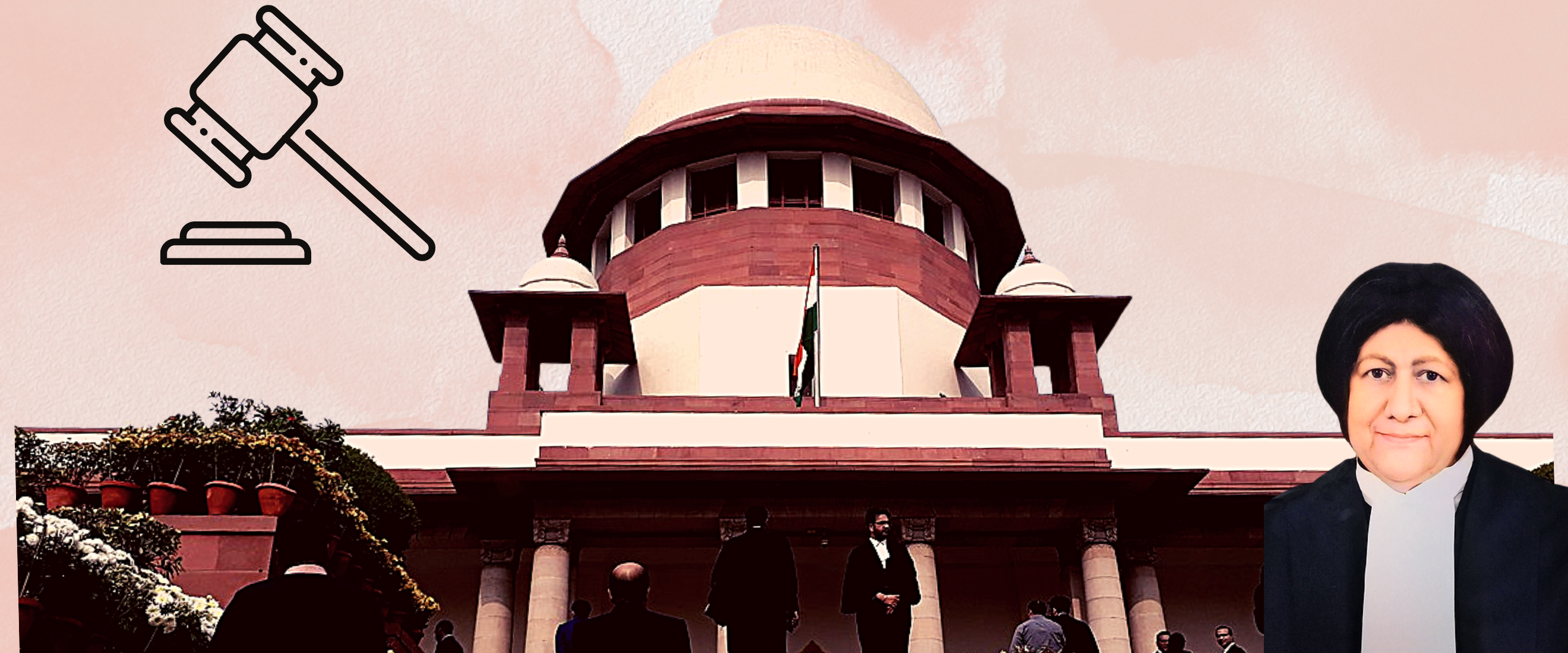 Justice Indira Banerjee will retire on September 23rd, 2022, marking the sixth judicial retirement from the Supreme Court this year. She has authored judgements in a range of subjects from criminal law to  elections. Towards the end of her 4-year tenure, Justice Banerjee headed the Constitution Bench which held that only a decision of a larger Bench can overrule a judgement delivered by a Bench of lesser strength. 
Constitution Benches: Rent Control, Anticipatory Bail, Narcotics and Precedential Value 
Justice Indira Banerjee has delivered four Constitution Bench decisions dealing with rent appeals, bail, drugs and narcotics offences, and the precedential value of Judgments. 
In 2019, Justice Banerjee authored a unanimous 5-judge Constitution Bench decision holding the Chhattisgarh Rent Control Act, 2011 to be unconstitutional. The Act mandated that the Supreme Court must hear second appeals for cases under the Act. Holding that this violates Article 323B (2) (d) of the Constitution, the Court said that the State legislature is not competent to direct the Supreme Court to hear an appeal.
  In 2019, Justice Banerjee was also part of a Constitution Bench that held that there is no time limit on when individuals can seek anticipatory bail under Section 438 of the Code of Criminal Procedure, 1973. Justice Banerjee authored a concurring opinion, observing that anticipatory bail protection does not automatically expire when an accused is summoned to Court. It is open to the Court to impose appropriate conditions for anticipatory bail. 
In another case, Justice Banerjee was on a Constitution Bench which held that a person accused under the Narcotic Drugs and Psychotropic Substances Act, 1985 (NDPS Act) cannot be let go from the case merely because the complainant is the investigating officer of the case. 
Justice Banerjee led a Constitution Bench in 2022. When deciding a case pertaining to Sales Tax, the Bench held that a unanimous Judgment did not have more precedential value than a Judgment delivered by a Bench of the same strength where one or more Judges dissented.
Mysuru Mayor's Election: Underlining the Sanctity of Elections
Rukmani Madegowda won the Municipal election in the Mysore City Corporation in September 2018, and was subsequently chosen as the Mayor. Her election was however challenged by an unsuccessful candidate, alleging that she had falsely declared that her husband did not possess any immovable assets. The trial court set aside her election, the decision was also upheld by the High Court. 
Before the Supreme Court, Madegowda's lawyer argued that the Karnataka Municipal Corporations Act, 1976 did not ask for disclosure of assets of a candidate or their spouse. Justice Banerjee, while disagreeing with the argument, held that sanctity of election at all levels, is a matter of national importance. The Judgment also expressed that a uniform policy, with respect to election, is the need of the hour in the interest of the States.
The Judgment noted that it is unconstitutional and against public interest to interpret an Act in a hyper-technical manner, to derive a meaning  that is not explicitly stated. 
SC/ST Act: FIR Cannot Be Set Aside Because It Was Filed By Political Rival
Ramveer Upadhyay, a former MLA from Sadabad, was booked under the Scheduled Castes and Scheduled Tribes (Prevention of Atrocities) Act, 1989 for hurling casteist abuses against an employee of his political rival. He approached the Supreme Court for setting aside the Complaint alleging political vendetta. 
Justice Banerjee held that a criminal case cannot be quashed solely on the ground that the complaint was filed by a political rival. Highlighting the relevance of the act, the Judgment noted that such complaints should not be set aside at an initial stage as they could result in conviction if proved. 
National Green Tribunal Must Protect Livelihood Of Employees When Ordering Closure Of A Factory
In June, 2021 the National Green Tribunal ordered the companies manufacturing formaldehyde to stop the operation of the factories for failing to obtain prior environmental clearance. As a result, over 8000 employees were left without livelihood. 
In the Supreme Court, Justice Banerjee held that a unit providing livelihood to hundreds of people, should not be closed down for the technical irregularity of want of prior environmental clearance. Taking note of the fact that the unit had obtained other approvals, Justice Banerjee held that environmental clearance can be granted after a factory commences its operations under exceptional circumstances.
Criminal Cases Should Be Proven Beyond Reasonable Doubt, Not Beyond Iota of Doubt
Justice Banerjee, in March, 2022, was hearing a criminal case where a person was convicted for murder by ​​relying on the testimonies of eye-witnesses. The convict argued that the case was not proven beyond a reasonable doubt as the weapon used for committing the crime was not discovered. The convict also argued that the body of the deceased contained pellets fired from another gun and there were no injuries caused by bullets fired from a rifle. 
Justice Indira Banerjee held that minor discrepancies and/ or improvements were insignificant and should be ignored. The Judgment held that criminal cases must be proven beyond reasonable doubt, not beyond iota of doubt.