Analysis
Maratha Reservations Struck Down: Judgment Matrix
Judgment breakdown: The 50% limit on reservation was unanimously affirmed. The 102nd Amendment took away States' power to recognise OBCs.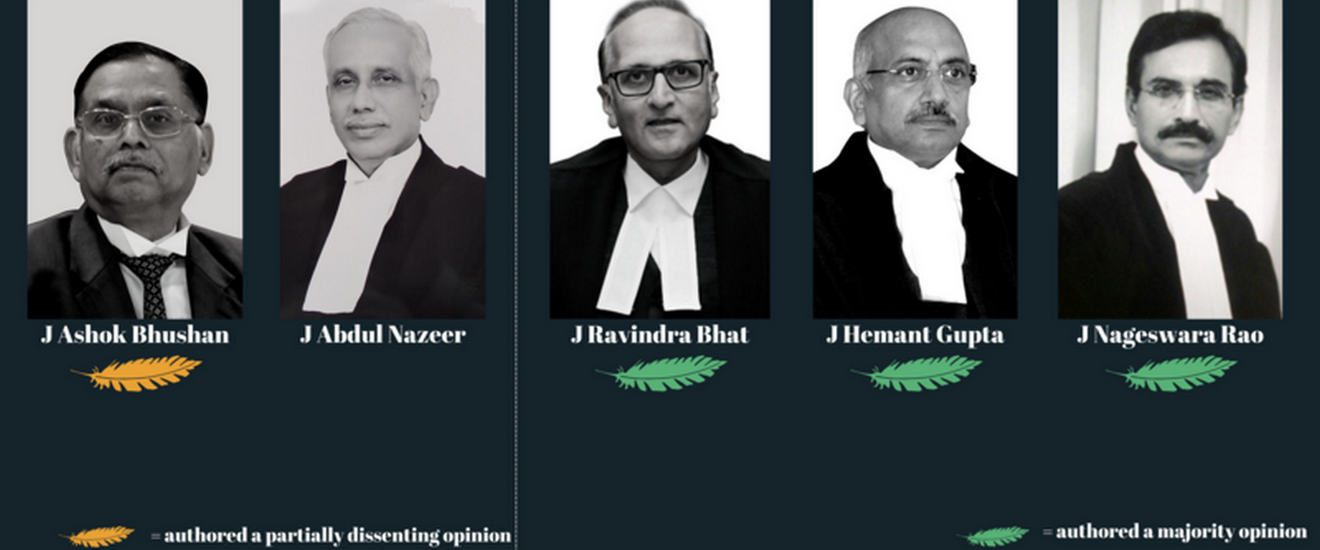 On May 5th 2021, a five-judge Constitution Bench pronounced their judgment on Maratha Reservations. They struck down the reservations for exceeding the 50% limit on reservations. Three judges also held that the 102nd Amendment has taken away States' powers to identify communities as socially and educationally backward for the purposes of special provisions.
On July 9th 2014, the Maharahstra government had promulgated an ordinance providing Marathas 16% reservation in higher education and public employment. The Bombay High Court stayed this in 2014. The Government then passed an Act in 2014, which the High Court stayed again.
In 2017, the Government consulted the Maharashtra State Backward Classes Commission led by Justice Gaikwad. They conducted a survey, and recommended reservations for Marathas. The Socially and Educationally Backward Classes Act, 2018 was passed providing for reservations on the basis of the Commission's report.
There were two major grounds on which the Act was challenged. First, that it breached the 50% limit on reservations as laid down in Indra Sawhney. And further that it was not an 'extraordinary circumstance' in which the limit could be breached as an exception. Second, that the 102nd Amendment had taken away States powers to identify socially and educationally backward classes. This was argued through the introduction of Article 342A which provided for a scheme to identify them. The Bombay High Court rejected both grounds.
The Supreme Court heard the appeal and decided to refer the matter to a Constitutional Bench due to the importance of the questions of law. After 10 days of hearings in March 2020, the Bench had reserved its judgment.
Four opinions were delivered. J Ashok Bhushan wrote for himself and J Abdul Nazeer. Justices Nageswara Rao, Hemant Gupta and Ravindra Bhat wrote for themselves. The Bench unanimously held that the 50% limit on reservations was good law, and need not be revisited. Further, the SEBC Act did not fall within the exceptions to this rule.
On the 102nd Constitutional Amendment Act, 2018, Justices Bhat, Rao and Gupta in the majority ruled that the Amendment did take away States' powers to identify SEBCs. J Bhushan, with whom J Nazeer agreed, dissented. Taking a purposive approach, he held that the Amendment was not intended to deprive States of this power.
J Hemant Gupta's opinion concurred with the outcomes and reasons of Justices Bhat and Rao.
Look at our plain English summary of the judgment here.