Analysis
The Supreme Court in Review, 2019
"The Supreme Court in Review" brings together academics, students and lawyers across the country to discuss landmark judgments of the Court.
In November 2018, the Centre for Law and Policy Research (CLPR) hosted the first National Constitution Society (NCS) Convention. The Convention provided students a platform to critically engage with academics, lawyers and civil society leaders from across the country, on the history and contemporary relevance of the Indian Constitution. This included reviewing key Supreme Court judgments from 2018, such as the Sabarimala and Triple Talaq verdicts.
In an effort to continue this endeavour, CLPR is hosting 'The Supreme Court in Review, 2019', in partnership with the NCS chapter of the St. Joseph's College of Law, Bangalore. Much like the first NCS Convention, 'The Supreme Court in Review, 2019' will bring together judges, lawyers, litigants, academics and students from across India to discuss the landmark judgments delivered by the Supreme Court in 2019. The event is designed to facilitate critical public engagement with the Supreme Court of India, and its judgments.
This one-day event will comprise three panels touching upon the themes of democracy, Supreme Court reform, and religion and faith.
RSVP mandatory: click here 
More information below.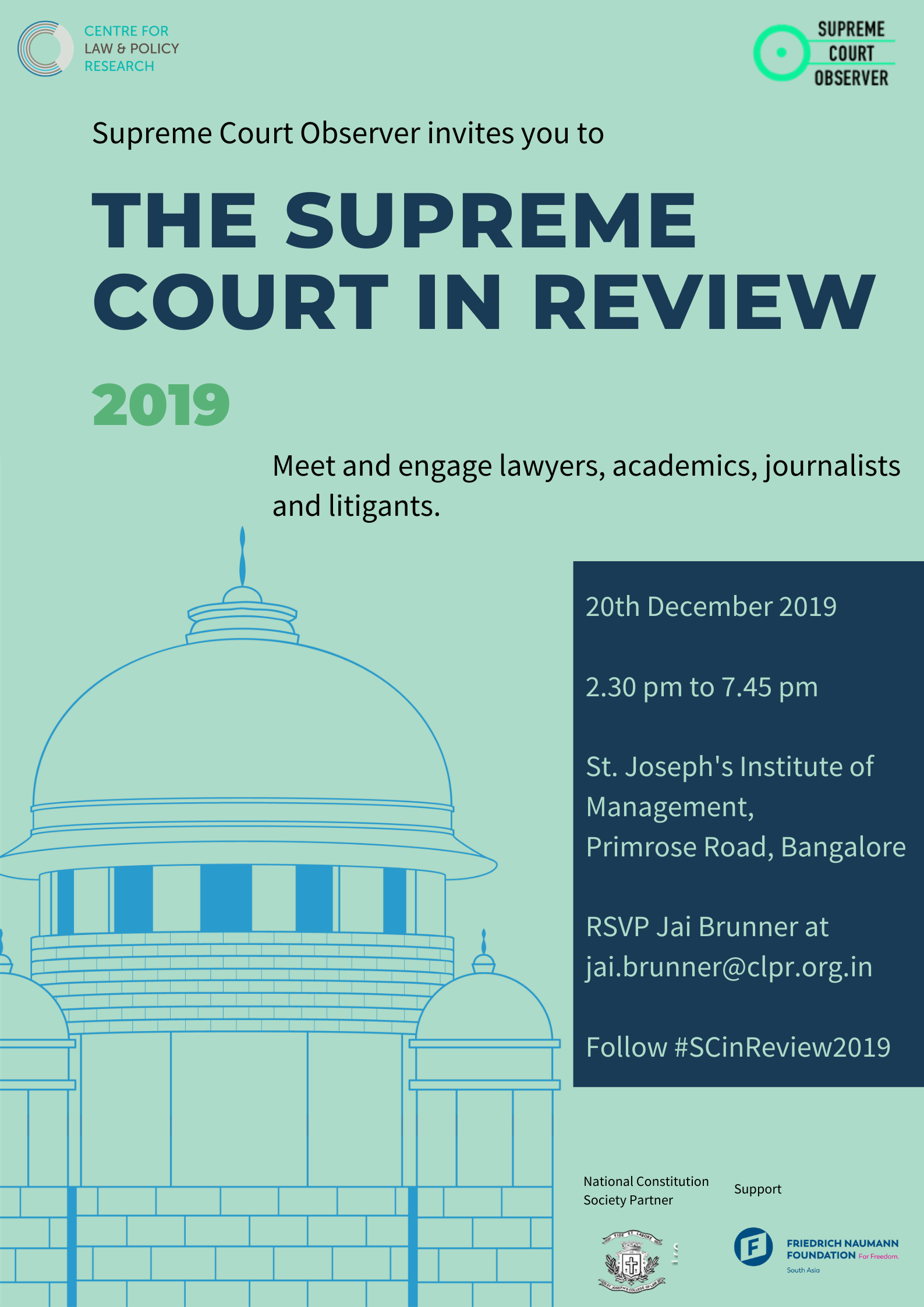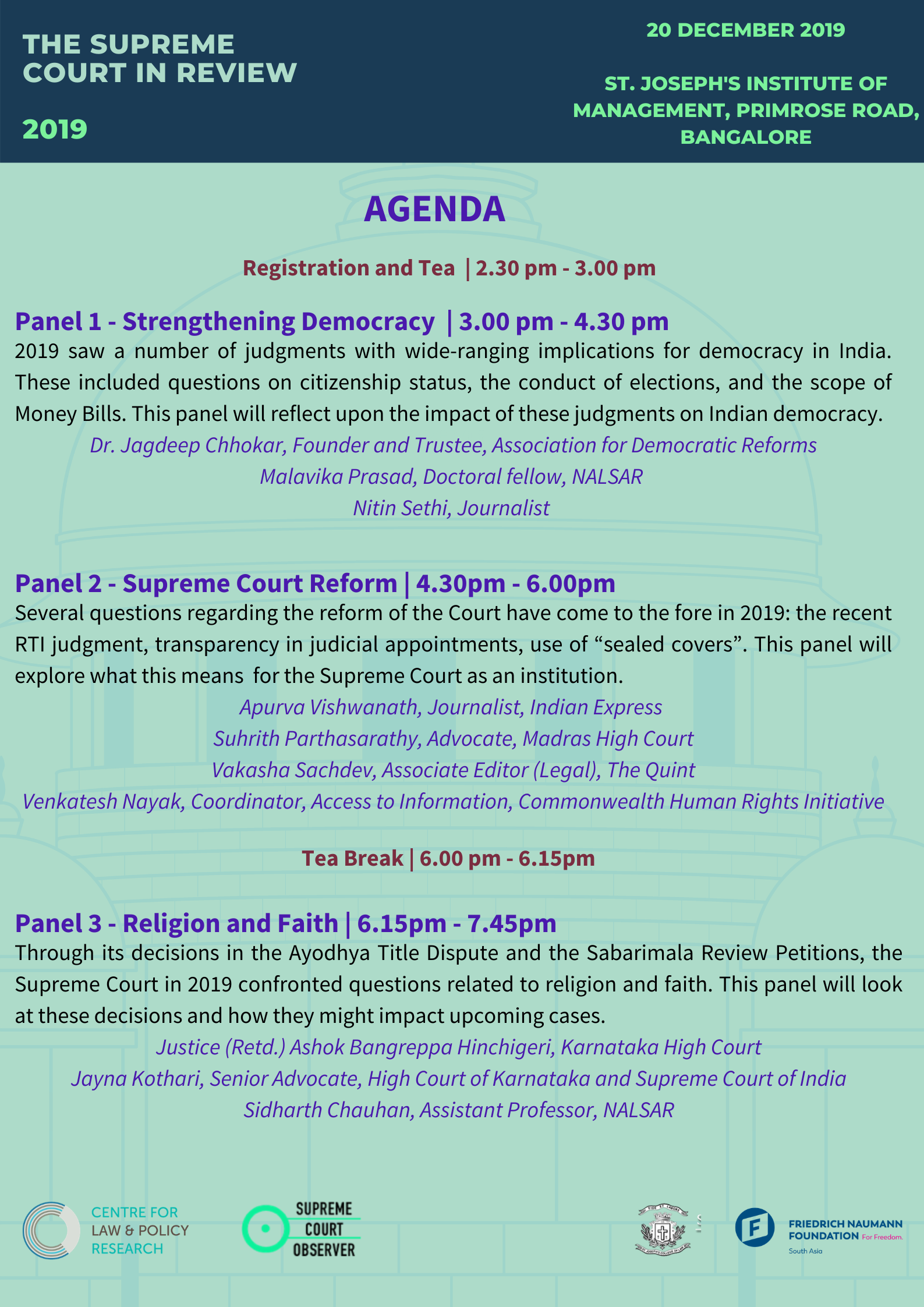 2.30 – 3.00 PM – Registration and Tea
3.00 – 4.30 PM – Panel 1: Strengthening Democracy- 2019 saw a number of judgments with wide-ranging implications for democracy in India. These included questions on citizenship status, the conduct of elections, and the scope of Money Bills.
This panel will reflect upon the impact of these judgments on Indian democracy.
Panel:
Jagdeep S. Chhokar, Founder and Trustee, Association for Democratic Reforms
Malavika Prasad, Doctoral Fellow, NALSAR
Nitin Sethi, Journalist
Key Cases: Electoral Bonds, VVPAT, Tribunals, NRC
4.30 – 6.00 PM – Panel 2: Supreme Court Reform – Several questions regarding the reform of the Court have come to the fore in 2019: the recent RTI judgment, transparency in judicial appointments, use of "sealed covers" and more.
This panel will engage with these developments and what they mean for the Supreme Court as an institution.
Panel:
Apurva Vishwanath, Journalist, Indian Express
Suhrith Parthasarathy, Advocate, Madras High Court
Vakasha Sachdev, Associate Editor (Legal), The Quint
Venkatesh Nayak, Coordinator, Access to Information, Commonwealth Human Rights Initiative
Key Cases: RTI, Elevation of Justice Kureshi, sealed covers (CBI Dispute, Rafale Deal, Assam NRC), Land Acquisition (recusal issue), CJI Controversy
6.00 – 6.15 PM – Tea
6.15 – 7.45 PM – Panel 3: Religion and Faith – Through its decisions in the Ayodhya Title Dispute and the Sabarimala Review Petitions, the Supreme Court in 2019 confronted questions related to religion and faith.
This panel will look at these decisions and how they might impact upcoming cases like the Muslim women's right to pray in mosques.
Panel:
Hon'ble Justice (Retd.) Ashok Bangreppa Hinchigeri, High Court of Karnataka
Jayna Kothari, Senior Advocate, High Court of Karnataka and Supreme Court of India
Sidharth Chauhan, Assistant Professor, NALSAR
Key Cases: Ayodhya Title Dispute, Sabarimala Review Petitions