Analysis
Amidst Cabinet Reshuffle, India Gets New Law Minister
Mr. Kiren Rijiju replaced as Law Minister after a tenure of nearly two years, with Mr. Arjun Ram Meghwal.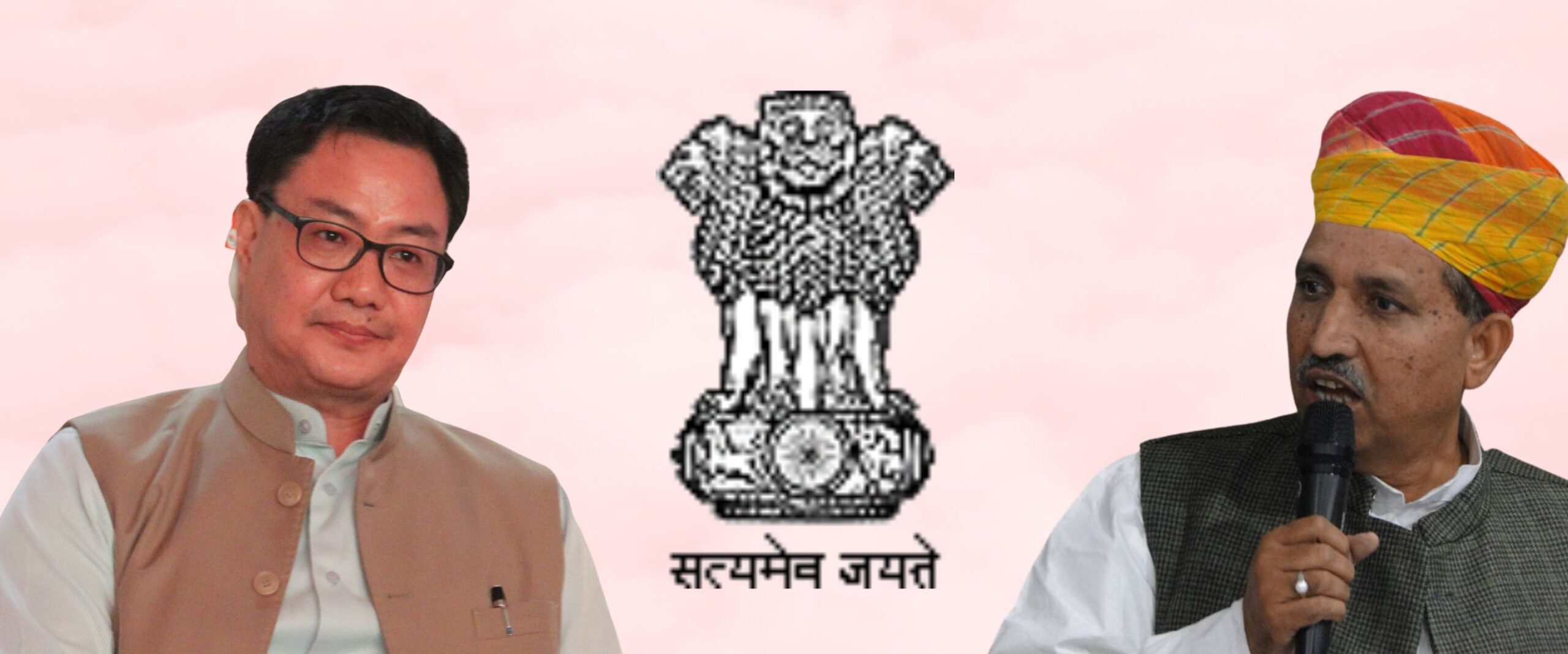 In an unexpected move, the Rashtrapati Bhawan announced today that amidst a cabinet reshuffling process, Mr. Kiren Rijiju has been removed as the Law Minister. Mr. Arjun Ram Meghwal has been appointed in his stead as Union Law Minister. 
What does the Law Minister Do?
The Ministry of Law and Justice is responsible for three departments:
The Department of Legal Affairs is tasked with advising various Ministries on legal matters,

Legislative Department, which is responsible for drafting legislation, and 

The Department of Justice is in charge of making appropriate judicial reforms. 
The Law Minister, being the head of the Ministry, is responsible for overseeing all three departments. The Minister is appointed by the President on the advice of the Prime Minister. 
Evaluating Mr. Rijiju's Term
Mr. Rijiju became the Union Law Minister under the Modi government on July 7th, 2021. He previously served as the Minister of Youth Affairs and Sports. Mr. Rijiju received his law degree from the University of Delhi, but unlike his predecessors, he never practised law owing to an active political career. 
During his tenure, Mr. Rijiju was often in the news for his bold remarks and vocal criticism of the Collegium system of Judge appointments. He sought a greater representation of the Union in the appointment process. He often took to Twitter and other public platforms to express dissent against the SC's collegium system. 
Earlier this year, he had written to Chief Justice D.Y. Chandrachud to include a Govt. representative in the 'search-cum-elevation committee' of the SC Collegium to ensure 'suitable candidates' are appointed. His comments about a certain section of retired SC judges being an 'anti-India gang' received widespread criticism. 
Mr. Rijiju's public standoff with the SC is seen by many as the reason for his abrupt divestment from the Law Ministry.  
Mr. Arjun Ram Meghwal: What is on his Plate?
The newly appointed Mr. Meghwal is the Minister of State for Parliamentary Affairs and Culture. He is a retired IAS Officer and a Member of Parliament for the Bikaner constituency in Rajasthan. He has a law degree and an MBA. 
In his new role as Law Minister, Mr. Meghwal inherits the burden of repairing the strained relationship between the Union and the Judiciary. This includes the issue of excessive litigation on the Union's part. Recently, in the hearings on the tenure extension for CBI and ED directors, the Bench commented that the Union must use discretion in approaching the Court. They lamented that the Court functioning was suffocating with the Union's litigious approach. The Law Minister will be crucial in streamlining the Government's litigation.