D.Y. Chandrachud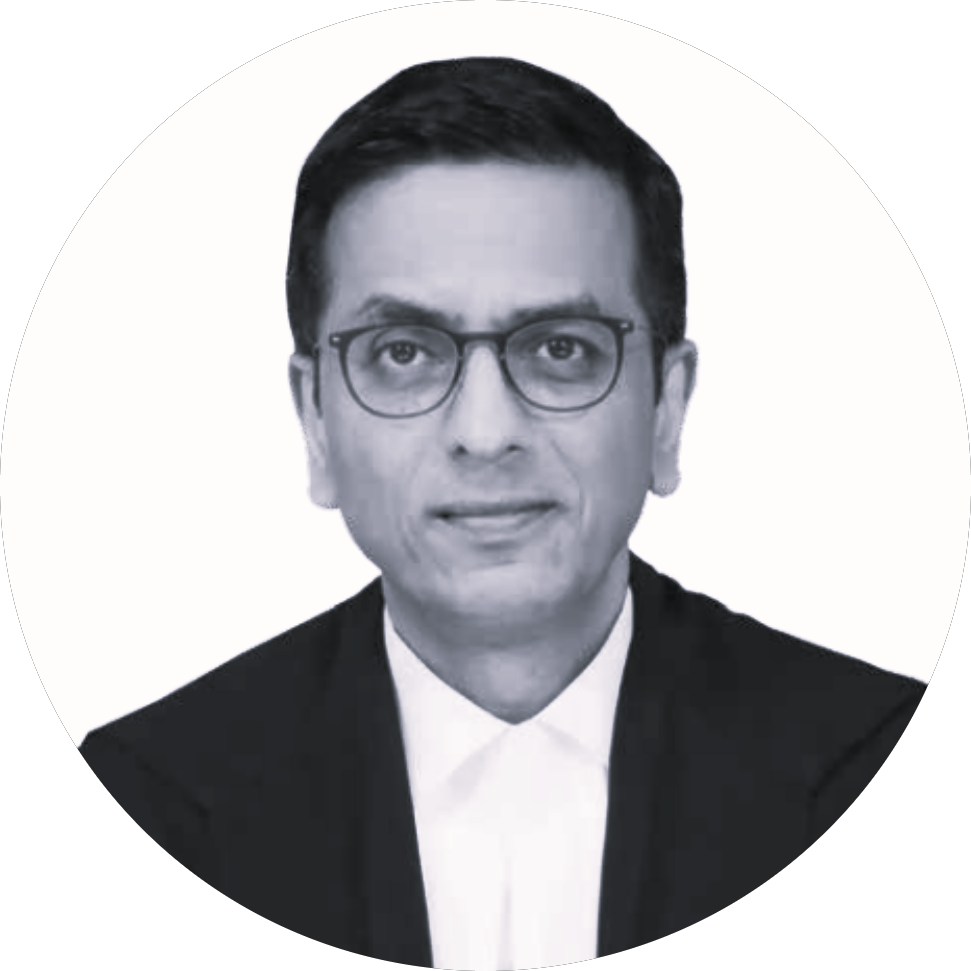 D.Y. Chandrachud
Chief Justice of India
Assumed Office8th Nov, 2022
Retires On10th Nov, 2024
Previously
Sitting Judge of the Supreme Court of IndiaMay 13th 2016 - November 7th, 2022
Chief Justice of Allahabad High CourtOctober 31st 2013 - May 12th 2016
Permanent Judge of Bombay High CourtMarch 29th 2000 - 30th October 2013
Senior Advocate, Bombay High CourtJune 1998 - March 29th 2000
Additional Solicitor General for Union of India1998 - March 28th 2000
Profile
Early Life and Education
Chief Justice Dhananjay Yeshwant Chandrachud was born on November 11th, 1959. His father, Y.V. Chandrachud, was the 16th Chief Justice of India. His mother, Prabha Chandrachud, was a singer for All India Radio. CJI Chandrachud graduated from St. Stephens College in Delhi with a degree in economics and mathematics in 1979, before obtaining a Bachelor's degree in Law from the Faculty of Law at Delhi University in 1982. 
He compounded his legal education with an LL.M from Harvard University in 1983 after obtaining the 'Inlaks' scholarship, and received the Joseph H. Beale prize for securing the highest marks in the Conflict of Laws course. He stayed at Harvard until 1986 to complete his Doctorate in Juridical Sciences. On completing his studies, he enrolled as an advocate with the Bar Council of Maharashtra.
Career as an Advocate
CJI Chandrachud's focus on social causes stems from his days as an advocate. In 1997, then-advocate Dr. Chandrachud, represented a labourer who was denied further employment by the public corporation he worked for after he contracted HIV-AIDS. The Bombay HC held that merely contracting HIV-AIDS was not a ground for violating the laborer's Right to Livelihood as he was still medically fit to perform his job. Dr. Chandrachud also appeared in cases involving the rights of bonded women laborers, and religious and linguistic minorities
While practicing as an Advocate, CJI Chandrachud remained involved in legal academics by taking a position as a Visiting Professor of Comparative Constitutional Law at the University of Bombay between 1988 and 1997. 
1998 was a big year for CJI Chandrachud. He was designated as a Senior Advocate in June despite being only 38 years old—this designation is rarely given to advocates below the age of 40. Further, he was appointed as an Additional Solicitor General of India, a position he held until his elevation as a Judge of the Bombay HC on March 29th, 2000. 
Career as a Judge
CJI Chandrachud spoke about his time as a Judge at the Bombay HC in glowing terms. He credits Justice Ranjana Desai, who he served with on a criminal Bench, for the shift in his approach towards crimes agianst women. He admits that he adopted a 'straight-jacketed approach' during his initial days as a Judge, but serving alongside Justice Desai gave him the 'necessary feminist perspective' to apply the law to social realities. This perspective is apparent in his SC Judgments like Lt. Colonel Nitisha (2021) where he recognised the concept of 'indirect discrimination' and held that women should also be considered for receiving Permanent Commissions in the Army. 
After over a decade at the Bombay HC, then-Justice Chandrachud was appointed as the Chief Justice of the Allahabad High Court on October 31st, 2013. He was elevated as a Supreme Court Judge on May 13th 2016, and became the 50th Chief Justice of India on November 9th, 2022, following CJI U.U. Lalit's retirement.
Tenure at the Supreme Court in Numbers
Figure 1 shows the number of Judgments authored by CJI Chandrachud during his SC career and the number of Benches he was a part of. In under six years, CJI Chandrachud wrote 513 Judgments and was a part of 1057 Benches. Among sitting SC Judges, CJI Chandrachud has written the most number of Judgments.
The highest number of CJI Chandrachud's Judgments are in Service (94) and Criminal (89) cases. However, his most impactful Judgments were written in cases dealing with Constitutional (45) issues.
Notable Judgments
In Abhiram Singh v C.D. Commachen (2017) the majority in the 7-Judge Constitution Bench of the Supreme Court held that electoral candidates cannot seek votes on the grounds of religion. Chandrachud J delivered the dissenting opinion in the case. He differentiated between blanket communal appeals and grievance-based communal appeals to rule that only the former is prohibited under the Representation of People Act, 1951.
In August 2017, a nine-judge bench of the Supreme Court unanimously affirmed that the Constitution of India guarantees a fundamental right to privacy. Chandrachud J authored the majority decision in Justice K.S. Puttaswamy v Union of India speaking for himself and Khehar J, RK Agarwal J and Abdul Nazeer J. He recognised the right to privacy and dignity as an intrinsic part of the right to life.
CJI Chandrachud wrote a concurring opinion in Shafin Jahan v Ashokan K.M. (2018) upholding Hadiya's choice of religion and marriage partner. Hadiya had converted to Islam and married the petitioner Shafin Jahan, at which point her parents alleged that she had been brainwashed. Justice Chandrachud reiterated that an adult's right to make decisions in marriage or religion falls within her zone of privacy.
Chandrachud J dismissed the demand for an enquiry into the circumstances of Judge Loya's death in Tehseen Poonawalla v Union of India. Judge Loya was hearing the Sohrabuddin fake encounter case.
In his concurring opinion in Government of NCT of Delhi v Union of India (2018), Chandrachud J held that the Lieutenant Governor is not the executive head of Delhi. Since representative democracy is an essential feature of the executive, it must be led by the Chief Minister and Council of Ministers. He held that the Lieutenant Governor is bound by the Chief Minister's advice and has no independent power under the Constitution.
Chandrachud J dissented in Romila Thapar v Union of India (2018) regarding the arrest of 5 human rights activists for allegedly instigating violence at Bhima Koregaon and participating in a criminal conspiracy against Prime Minister Narendra Modi. He stated that the issue was whether the arrests violated the accused of their fundamental rights to free expression and personal liberty guaranteed by Articles 19 and 21 of the Constitution. He suggested that a Special Investigation Team probe the arrest of the activists.
Chandrachud J wrote a separate concurring opinion in Navtej Johar v Union of India (2018) as well, decriminalising section 377 of the Indian Penal Code and made same-sex intercourse legal. He held section 377 to be an 'anachronistic colonial law,' which violated the fundamental rights to equality, freedom of expression, life and privacy. He added that this could only be seen as a first step in guaranteeing LGBT individuals their constitutional rights. 
In Justice K.S. Puttaswamy v Union of India (2018) Chandrachud J, as a sole dissenter, held that the Aadhaar was unconstitutionally passed as a Money Bill. He also reviewed arguments on specific provisions of the Act which affected an individual's privacy, dignity and autonomy.
In Joseph Shine v Union of India (2018), Chandrachud J concurred with the majority opinion in decriminalising adultery. He found that section 497 IPC violated Articles 14, 15 and 21 of the Constitution. He read down section 198(2) CrPC. He opined that decriminalising adultery was rooted in patriarchal notions and had resulted in centuries of female subjugation.
In the Indian Young Lawyers Association v State of Kerala, (2019) Chandrachud J held that the exclusion of women between the ages of 10-50 years from Sabarimala Temple violated constitutional morality. He further added that it subverted their autonomy, liberty, and dignity. Uniquely, he held that the custom also violated Article 17, which prohibits untouchability, as it assigns a notion of impurity to women.    
Justice Chandrachud was also a member of the 5-Judge Constitution Bench in the Ayodhya Title Dispute (2019). The bench unanimously decided to grant the title over the disputed land, where the demolished Babri Masjid once stood, to the deity Shri Ram Virajman and allowed them to construct a separate temple at the site. The Sunni Waqf Board in charge of the Babri Masjid's administration was granted 5-acres of land in a separate site to build a mosque.