Analysis
Justice K.M. Joseph: Tenure in Numbers
Justice K.M Joseph retires after a 4.75-year tenure, having written over 130 Judgments.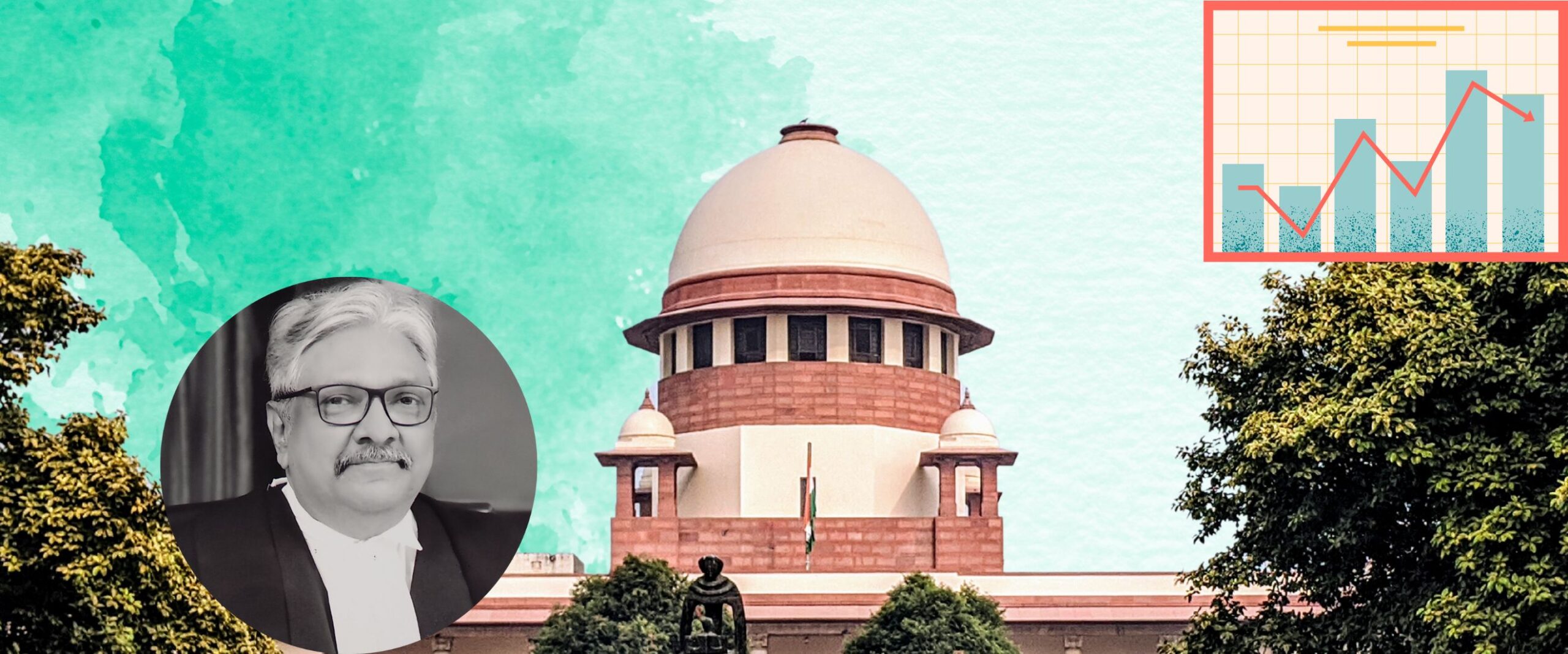 Justice K.M. Joseph retires on 16th June, 2023 after a tenure of nearly 5 years at the Supreme Court. At the time of his retirement, he was the 3rd seniormost judge at the SC.
During his tenure, Justice Joseph led 5 Constitution Benches and authored over 130 judgements.
Expected Tenure
Figure 1 shows the expected tenures of all sitting judges of the SC. The average tenure of the current judges of the Court is 5.3 years. 
Chief Justice D.Y. Chandrachud has the highest tenure of 8.5 years of all sitting judges of the SC. Justice Joseph's 4.75-year tenure falls short of the average tenure.
Interestingly, Justice Joseph was first recommended by the SC Collegium on January 10th, 2018. However, the Union rejected his recommendation. On July 16th, 2018, the SC Collegium reiterated his recommendation. Justice Joseph was appointed as an SC Judge on August 8th, 2018 almost 8 months after his initial recommendation by the SC Collegium. 
Had his recommendation been accepted the first time, he would have served a longer tenure spanning over 5 years.
Number of Judgements
Figure 2 shows the total number of judgements authored by sitting judges who have served for more than 2 years at the SC. 
CJI Chandrachud with 557 judgements to his name, leads the chart at a rate of 79.5 judgements per year.
Justice Joseph has authored 132 judgements at a rate of 27 judgements per year. This makes him the 5th most prolific judgement author amongst his peers. 
Subject Matter of Judgements
Figure 3 depicts the subject matter of Justice Joseph's judgements since his elevation to the Supreme Court**. A majority of his judgements (30) are on criminal law cases. This amounts to about 17% of his total judgements. This is no surprise considering Justice Joseph was a part of the SC Roster for Criminal Matters.
Service law matters stand second with 21 judgements. Followed by property law, civil law and constitutional law matters. 
Justice Joseph has authored 77 other judgements. These range across various subject matters such as family law, tax law, commercial law, environmental law and property law.
Judgements Authored
Figure 4 shows the number of judgements authored by Justice Joseph each year since his elevation to the SC in 2018. The figure also depicts the number of Benches and how many judgements he has authored per Bench. 
For each passing year, Justice Joseph contributed a greater number of Judgements for each Bench he was a part of. During his first year at the SC, he was part of 31 benches and authored 3 judgements. He authored only 9.7% of the judgements per Bench. 
In 2019, which was Justice Joseph's first full year at the SC, the number of benches he was part of increased drastically. He was part of 146 Benches and authored 35 judgements. His judgement authorship per bench also increased to 24% that year. This year appears to be an exception compared to the remaining years of his career. 
There was a drop in judgement authorship and the number of benches he was part of in 2020. This can be attributed to the Covid-19 pandemic. There was a gradual increase in numbers over the next two years. 
In 2021 he was part of 69 Benches and authored 27 judgements. His rate of authorship was 37%. 
He was part of 71 Benches in 2022 and authored a total of 40 judgements. This is the highest number of judgements in any year during his 4.75-year tenure. His rate of authorship was 60%.
In 2023, though his authorship rate was 60%. He authored only 15 judgements and was part of 25 Benches. 
Justice Joseph, who was among the top 5 most prolific judgement writers in the SC, made a deep impact on the law. Though Justice Shah retired with a higher number of judgements (712) under his belt, Justice Joseph's judgements in 4 Constitution Benches arguably had a higher qualitative impact. 
*Based on Data collected on 14th June, 2023. 
** The total number of judgements in this section is not the same as in Figure 2. The data is from the Manupatra database.