Analysis
Supreme Court Refuses To Set Aside Gautam Navalakha's House Arrest Order
The Bench questioned the Additional Solicitor General If an entire police force cannot keep a watch on an ailing 70 year old man.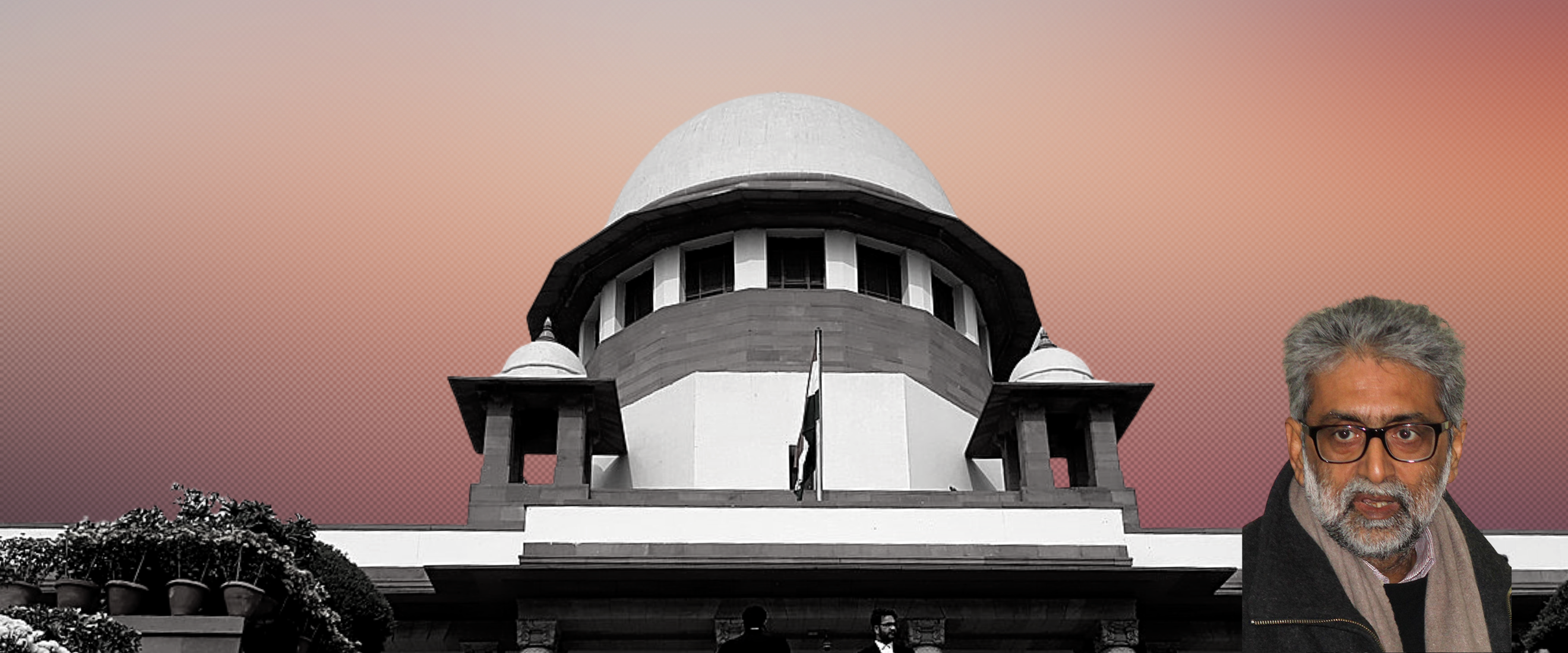 On November 18th, Supreme Court Bench led by Justice KM Joseph dismissed an application by the National Investigation Agency (NIA) against Bhima Koregaon accused Mr. Gautam Navlakha being placed under house arrest. Mr. Navlakha is presently housed in Taloja jail, pending release to house arrest as ordered by the Supreme Court on November 10th, 2022. 
Why Did the NIA oppose SC's permission for House Arrest?
Justices Joseph and  Hrishikesh Roy  permitted Mr. Navlakha to be shifted to house arrest from jail for a month on November 10th, subject to a host of conditions. He was asked to deposit ₹2.4 lakhs to fund his security cover and other surveillance when he is placed under house arrest.  The Court permitted him to be shifted due to his ailing health.
Mr. Navalakha was arrested for making some speeches he made at the Elgar Parishad conclave held in Pune on December 31st, 2017. On November 10th, the NIA had opposed him being placed under house arrest on the ground that Mr. Navalakha had connections with banned organisations such as CPI (Maoist)
The NIA filed an application to set aside the house arrest, alleging that Mr. Navlakha had deliberately suppressed certain facts relevant to his arrest. The NIA alleged that suppressing these facts amounted to abuse of process of law. The application had also expressed apprehension that Mr. Navalakha's medical report, based on which the house arrest was granted, was prepared by a hospital where his relative was the head of a department. 
ASG Argues That Navalakha Is Attempting To Take The Authorities For A Ride:
Today, Solicitor General of India Tushar Mehta argued that the library where Navlakha wants to be kept under house arrest belongs to the Communist Party of India. To this, Justice Joseph asked Mr. Mehta if this was a fact worth considering, as Communist Party of India is a recognised political party. 
Appearing for NIA, ASG SV Raju argued that Mr. Navalakha has given a series of misleading statements to the Court and expressed his apprehension about whether the house arrest could be misused.
Mr. Raju alleged that Mr. Navalakha cannot be trusted and has deliberately selected a place where he can meet different people. Mr. Raju also apprised the Court that Mr. Navalakha's lawyers had  initially informed the Court that there was just one exit to the premises, however, on inspection it was found that there were two exits. The Court responded to this by saying that Mr. Navalakha could not have been shifted to the premises till a recce was carried out by the police officers.
Mr. Raju argued that there is a grill in the premises which could easily be opened, he further stated that a lot of people visit the premises as karate classes are conducted in the terrace. The ASG alleged that Mr. Navalakha is attempting to take the authorities for a ride.  Mr. Raju contended that owing to a series of misstatements, Mr. Navalakha is not fit for house arrest.
Senior Counsel Nitya Ramakrishnan, appearing for Navlakha, said that the space proposed for Mr. Navlakha's house arrest is residential. Addressing the allegation against Communist Party of India Ms. Ramakrishnan said that the Communist party itself condemns Maoists.
The Bench, which also comprised Justice Hrishikesh Roy, dismissed NIA's application while noting that it is hard to believe that an entire police force cannot keep a watch on an ailing 70 year old man. The Bench proceeded to record the submission of Mr. Navalakha's lawyers that he has no objection to NIA sealing the second exit door. The Court directed that the order of November 10th, be given effect to within 24 hours from the receipt of this order.