Court Data
Arguments Time Split: Challenge to the abrogation of Article 370
The Bench heard arguments for 60+ hours over 16 days. Senior Advocate Kapil Sibal argued the longest, followed by SG Mehta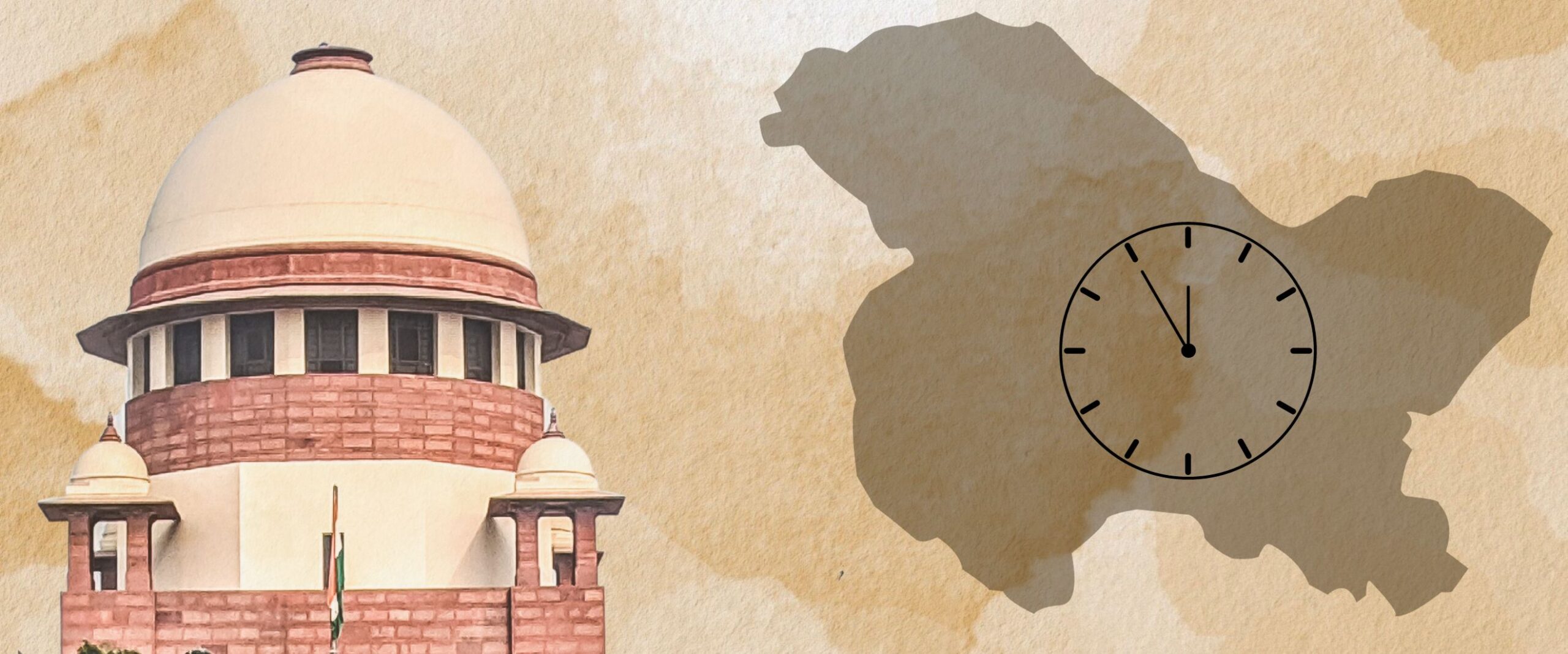 On 5 September 2023, the Supreme Court reserved judgement in the challenge to the abrogation of Article 370 after hearing arguments from 40 counsels over the course of 16 days. Parties argued for a grand total of 60 hours (3,606 minutes)*. Petitioners argued for approximately 40 hours (2400 minutes) over nine days. In contrast, respondents took half the time to complete their arguments i.e. approximately 20 hours (1206 minutes) over five and a half days. 
Senior Advocate Kapil Sibal argued for 35% of the petitioners' time
Figure 1 plots the time taken by each petitioner counsel in minutes, to allow a more granular breakdown of the length of oral arguments. 17 lawyers argued on behalf of the petitioners. Four of these lawyers (indicated in grey) were from Kashmir. Only three lawyers (indicated in light blue) were women. 
Leading the charge was Senior Advocate Kapil Sibal, appearing on behalf of Mohammad Akbar Lone. He argued for an extensive 845.65 minutes (14 hours), the most amount of time taken by any one lawyer in the entire case. This took up 35% of the petitioners' time. On Day 1, Chief Justice D.Y. Chandrachud had suggested giving "a fairly comprehensive hearing to the first counsel" leaving the remaining lawyers to "pick up whatever threads [that] remain to be argued". 
Sibal was followed by Senior Advocate Gopal Subramanium who argued for 4.48 hours (269 minutes). The stark difference could be attributed to the Chief's concerns that "if we start giving the same amount to second, third, then we'll never... there will be no end to it". 
The Kashmiri lawyers argued for 4.7 hours in total. Senior Advocate Zaffar Shah presented his arguments for 4.1 hours (247.06 minutes). Senior Advocate Muzaffar Hussain Baig followed with 20.5 minutes, while Advocate Irfan Hafeez Lone had 9.5 minutes. Zahoor Ahmad Bhat, a petitioner appearing in person, made a brief five-minute contribution while being urged by the bench to make a novel point, quickly. Collectively, they occupied 7.8% of the time allotted to the petitioners'.  
Senior Advocates Nitya Ramakrishnan and Menaka Guruswamy, and Advocate Warisha Farasat were the only women lawyers among the petitioners. Together, they argued for 75 minutes—approximately 3.1% of the time dedicated to the petitioner's arguments.
The remaining eight lawyers argued for 15.4 hours (929.3 minutes) in total. Each of these lawyers argued for an average of 133 minutes. Towards the end of the rejoinder arguments, petitioner lawyers clamoured for more of the Court's time, pleading that many more voices were unheard. After hearing arguments for 9 days, at this point, the bench instructed all remaining parties to submit brief two-page written submissions. Many lawyers, such as Senior Advocate C.U. Singh, sought to bargain for time with the bench for just "about 10-15 minutes", complaining that the respondents took up some of the time allotted to the petitioners. CJI Chandrachud was quick to respond "you [petitioners] also took the half day, the previous week, you know." 
SG Tushar Mehta argued for 54% of the respondents' time
Figure 2 indicates the time taken by 23 lawyers appearing on behalf of the respondents. The respondents include the Union government and other intervenors. While eight lawyers spoke for a significant duration, 15 lawyers (marked as 'other' in Figure 2) were asked to quickly make their brief submissions before the Court, allowing them to collectively argue for 35 minutes. 
The army of lawyers on the respondents' side consisted of only two women. Advocate-on-Record Archana Pathak Dave and Advocate Charu Mathur, argued for 1.5 minutes and 42 seconds respectively. Collectively, they occupy 0.18% of the time allotted to respondents. 
Solicitor General Tushar Mehta led the respondents' arguments and took 54% of the respondents' time. He argued for approximately 11 hours (657 minutes). In contrast, the Attorney General himself argued for approximately 1.5 hours (88.92 minutes). In the marriage equality hearings as well, Mehta argued for a significantly higher duration than Attorney General R. Venkataramani.  
Senior Advocate Rakesh Dwivedi followed Mehta and argued for 2.7 hours (165.42 minutes). The remaining respondent lawyers argued for approximately four hours (an average of 47 minutes per lawyer). 
On Day 15, the last day of arguments for respondents, lawyers were strictly asked to conclude by 1:00 P.M. "at the stroke of lunch" and not "one minute after" that. In an effort to use the Court's time effectively, the Bench instructed all advocates to avoid repeating arguments, achieving moderate success in this endeavour.  
*This count includes substantive arguments and discussions between judges.