Analysis
Justice L. Nageswara Rao's Tenure in Numbers
The SC's long season of judicial retirements continues with Justice L.N. Rao's term ending on June 7th. SCO reviews his tenure in numbers.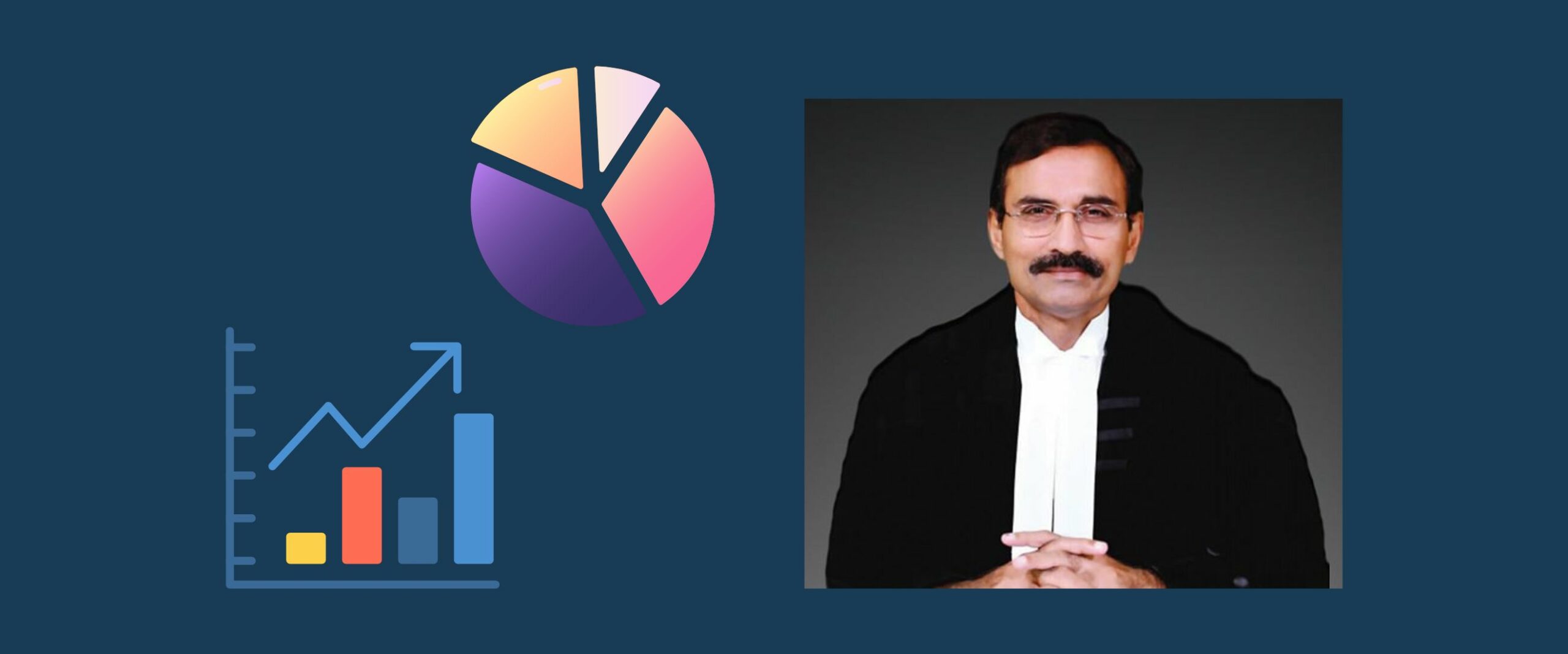 Justice Lavu Nageswara Rao retired on June 7th 2022. Rao J was the 7th Judge to be elevated to the Supreme Court directly from the Bar, after working as an advocate for over 30 years. He was designated as a Senior Advocate by the Andhra Pradesh High Court in December 2000 and served two terms as Additional Solicitor General. After reportedly turning down the elevation to the SC in 2014, citing 'personal and professional' reasons, Rao J accepted on May 13th, 2016. 
Figure 1 shows that Justice Rao's  6-year tenure exceeds the tenure of most of his fellow sitting Judges. Among the Judges sitting in the SC, only six Judges are projected to have a tenure of longer than six years—a group that may have included Justice Rao had he accepted a position on the Bench in  2014. His tenure exceeds the average expected tenure (5.3 years) of all sitting judges.
The average tenure for Judges elevated directly from the Bar, after the recent elevation of Justice P.S. Narasimha in August 2021 is 6.11 years. This is higher than the average expected tenure of all sitting Judges. Rao J's tenure aligns with the average for a Judge elevated from the Bar almost exactly
During his farewell speech, Justice Rao expressed the need for an increase in the amount of time Judges serve in the SC. According to him, tenures should last for 7 to 10 years regardless of when Judges are appointed as it takes a year or two to understand how the SC functions. By the time they are acclimated, they are 'looking at their retirement'. 
Figure 2 provides a breakdown of the total number of Judgments authored by each Judge, as well as their annual rate of writing Judgments. Rao J wrote 223 Judgments during his 6-year tenure. On average, he wrote 37 Judgments per year. This is well above the average rate for an SC Judge which is 27. It should be noted that this average was calculated including the judicial output for Justices Pardiwala and Dhulia who were only elevated on May 9th, 2022. 
Justices Nariman, Malhotra, Lalit and Narasimha were elevated from the Bar as well and served alongside Rao J in the SC. Justices Nariman and Lalit wrote more Judgments per year when compared to Justice Rao. Justice Narasimha has yet to complete a calendar year in the SC, as he was appointed on August 31st 2021.

Figure 3 indicates that most of Rao J's Judgments were delivered in Service (22%) and Criminal (13%) matters. Civil (7%), Education (6%), Constitution (5%) and Defence (4.9%) matters form a large part of the Judgments he's delivered as well. 
Despite service matters forming the largest portion of his Judgments, he is perhaps most well-known for his Judgments in Civil matters. 
Rao J wrote a concurring opinion in the Maratha Reservations Case, ruling that the Constitution (One Hundred and Second) Amendment Act, 2018 took away States' power to identify backward classes. He was a member of four other decided Constitution Bench cases as well. 
In 2017 the SC ruled that appeals to religion, race, caste, community or language during electoral campaigns is a 'corrupt practice' under the Representation of People Act, 1951. Rao J was a member of this 7-Judge Bench. 
Before he retired, Rao J was a member of four pending Constitution Bench cases.
In total, Rao J was a part of 747 Benches that produced Judgments during his tenure. Of these, he authored 222 (30%). 
Rao J's judicial output peaked in 2019—sitting on 210 Benches and authoring 63 Judgments. Both these marks are the highest of his career. However, from 2020 onwards SC functioning was limited and overall judicial output fell drastically due to COVID-19 which possibly kept Rao J from reaching these heights again.