Analysis
Women in the Judiciary- Have we Come Far from the 30s?
DESK BRIEF: Justice Leila Seth was the first woman to be Chief Justice of a High Court. Her autobiography tell us this was no small feat.
Justice Leila Seth was sitting in the Delhi High Court one day, when a large group of people flooded her courtroom. She asked her clerk whether there was a controversial or newsworthy case listed in her courtroom, which had attracted this crowd. He informed her that this was a group of farmers who had come to Delhi upon invitation from the Prime Minister, to see the capital's sights. They had just been to the zoo, and their next stop was the High Court—to see a woman judge.
This was 1978, when the appointment of a woman judge was rare, and each such appointment would mark the first of its kind. Women in the judiciary were few and far between. The first ever woman judge, Justice Anna Chandy had been appointed over 40 years before Seth's appointment as a High Court judge (1937).
Thirteen years after becoming a High Court judge, Justice Seth became the first woman to be the Chief Justice of a High Court (1991).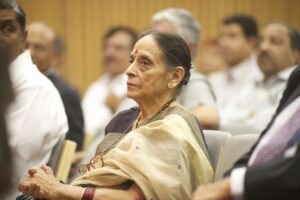 In her autobiography On Balance, she narrates the added baggage that came with being a woman in the judiciary. Her role came with a significant responsibility—her mistakes would reflect on women's ability to be judges in India's courts, and her actions would affect the women who came after her. Her Court demeanour was affected by how 'hard' it was for some male judges to work with a woman—she had to be gentle yet firm to keep their faith, and avoid 'showing [her] prowess'. In her first social event with High Court judges, her colleagues commented that since she was here, they wouldn't have to worry about catering anymore—Seth would make all the tea arrangements.
Representation of women in the judiciary has not improved very much since Justice Chandy or Justice Seth. Out of the 650 High Court judges in India today, only 76 are women. This amounts to only 11.7% of the current High Court judges. Five High Courts do not have any women judges. Chief Justice Hima Kohli is the only woman High Court Chief Justice in India. There are currently no collegium resolutions recommending a woman Chief Justice.
The Supreme Court is no different. Since 1950 it has only had eight women justices. Currently only one of the 27 sitting judges is a woman. This will drop to zero when J Indira Banerjee retires on September 23rd 2022.
Our post on the number of women judges in High Courts is here. We discuss the number of women Chief Justices in the High Courts here.