Analysis
Justice Hemant Gupta Is the Third Most Prolific Author at the SC
On the occasion of Justice Gupta's last working day at the Supreme Court, SCO examines his tenure in numbers.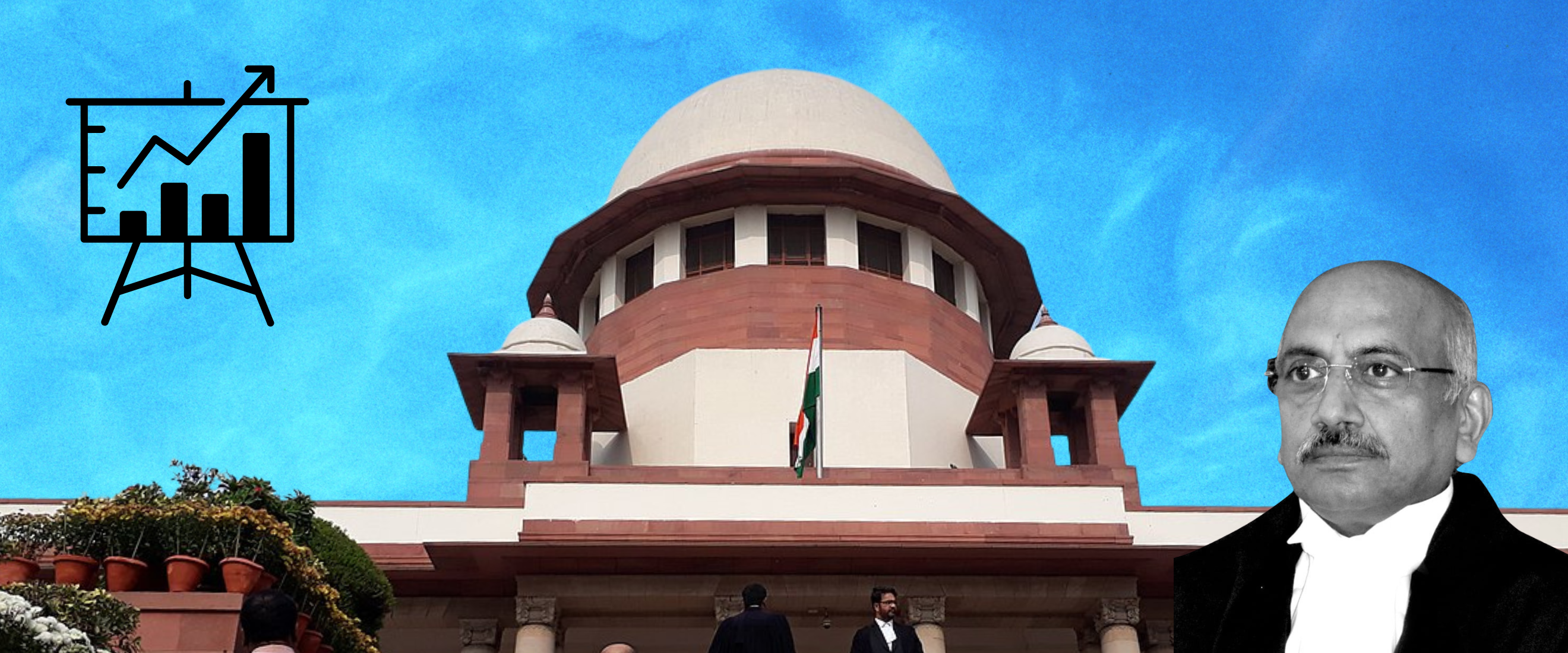 Today is Justice Hemant Gupta's last working day at the Supreme Court. He is set to retire on October 16th, 2022. Across his 4-year tenure at the SC, Justice Gupta has impacted over 500 decisions across a wide spectrum of subject matters and has outpaced most of his peers in Judgment writing. Before his elevation to the Supreme Court, Justice Gupta served as a Judge of the Punjab and Haryana High Court for over 10 years, and then at the Patna and Madhya Pradesh High Courts. SCO examines the numerical highlights of his tenure.
Justice Hemant Gupta Had a Short Tenure of Less Than 4 Years
Figure 1 depicts the total expected tenures of all the sitting Supreme Court Judges at the time of Justice Gupta's retirement. His 4-year  tenure falls short of the average Supreme Court Judge tenure of 5.27 years. The median tenure length of the currently sitting Supreme Court Justices is 5 years. However, his rate of writing Judgments during his short tenure was significantly higher than many of his peers.
Justice Gupta's High Judicial Output in His Short Tenure
Figure 2 depicts the total number of Judgments authored by each sitting Judge of the Supreme Court and their annual rate of writing Judgments. Justice Hemant Gupta has authored a total of 203 Judgments across his 4-year tenure. This gives us a Judgment writing rate of 50.75 Judgments per year. The average Judgment writing rate of the sitting Supreme Court Judges* is 32.67 Judgments per year. This makes Justice Gupta the third most prolific writer at the Court with only Justices D.Y. Chandrachud and M.R. Shah authoring Judgments faster than him. 
Interestingly, Justice M.R. Shah was elevated on the same day as Justice Gupta. He has authored 467 Judgments at a rate of 116.75 Judgments per year. On the other hand, Justice Ajay Rastogi, who was also elevated at the same time, has authored 115 Judgments at a rate of 28.67 Judgments per year.
What Subjects Did Justice Gupta Write About the Most?
Figure 3 depicts the subject matter of Justice Gupta's 203 Judgments. The chart shows that the highest number of his Judgments (35) were written in service cases. This is followed by property (28), criminal (23), and civil (17) law cases. His remaining 100 Judgments were delivered in a mix of different subject matters ranging from cases dealing with constitutional questions to consumer issues. 
In November 2018, Justice Gupta was a member of the Constitution Bench which held that reservations for the Maratha Community were unconstitutional for exceeding the 50% limit established in Indra Sawhney (1992). In February 2019, he ruled that Article 142, which allows the Court to pass any Orders to do ' complete justice', cannot be used to reduce a convicted individual's sentence below the minimum prescribed period. In November 2020, he held that caste-based slurs made outside the 'public view' are not punishable.
Most notably, on October 13th, 2022, Justice Gupta upheld the Karnataka Government's Hijab Ban in educational institutions. However, the verdict ended up being a split decision between him and Justice Sudhanshu Dhulia.
Read more about Justice Gupta's notable Judgments here.
How Many Cases Did Justice Gupta Impact?
Figure 4 depicts the total number of cases on which Justice Gupta has had an impact. We assess this metric by considering the total number of Judgments authored and the total number of Benches Justice Gupta has been part of. In his 4-year tenure spanning from 2018 to 2022, Justice Gupta authored 203 Judgments and was a part of 558 Benches. He has authored Judgments in 36.38% of the Benches he has been part of.
*As we are considering the annual Judgment writing rate, Judges who have served for a year or less at the SC are not included in this metric.