Analysis
August Monthly Review: Supreme Court Administration
Last month the SC saw a change in leadership and major institutional developments in the Court.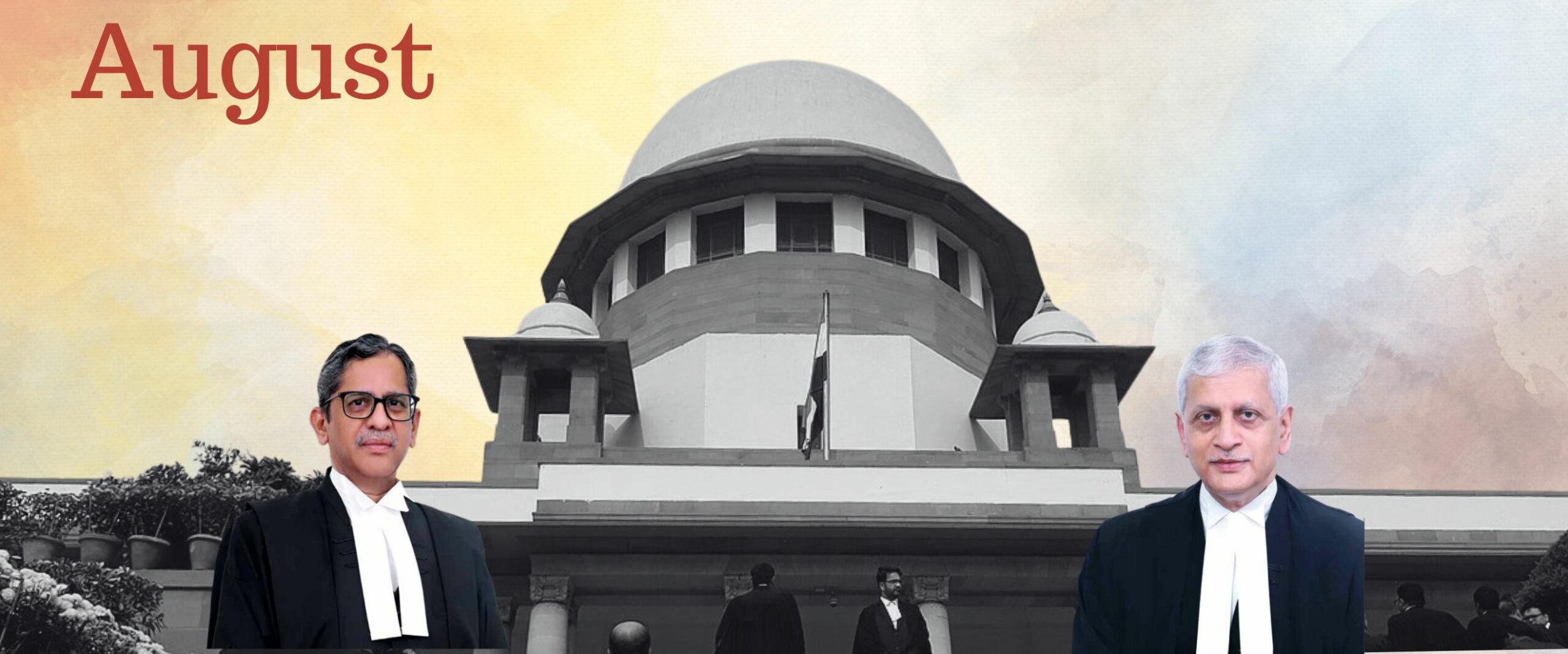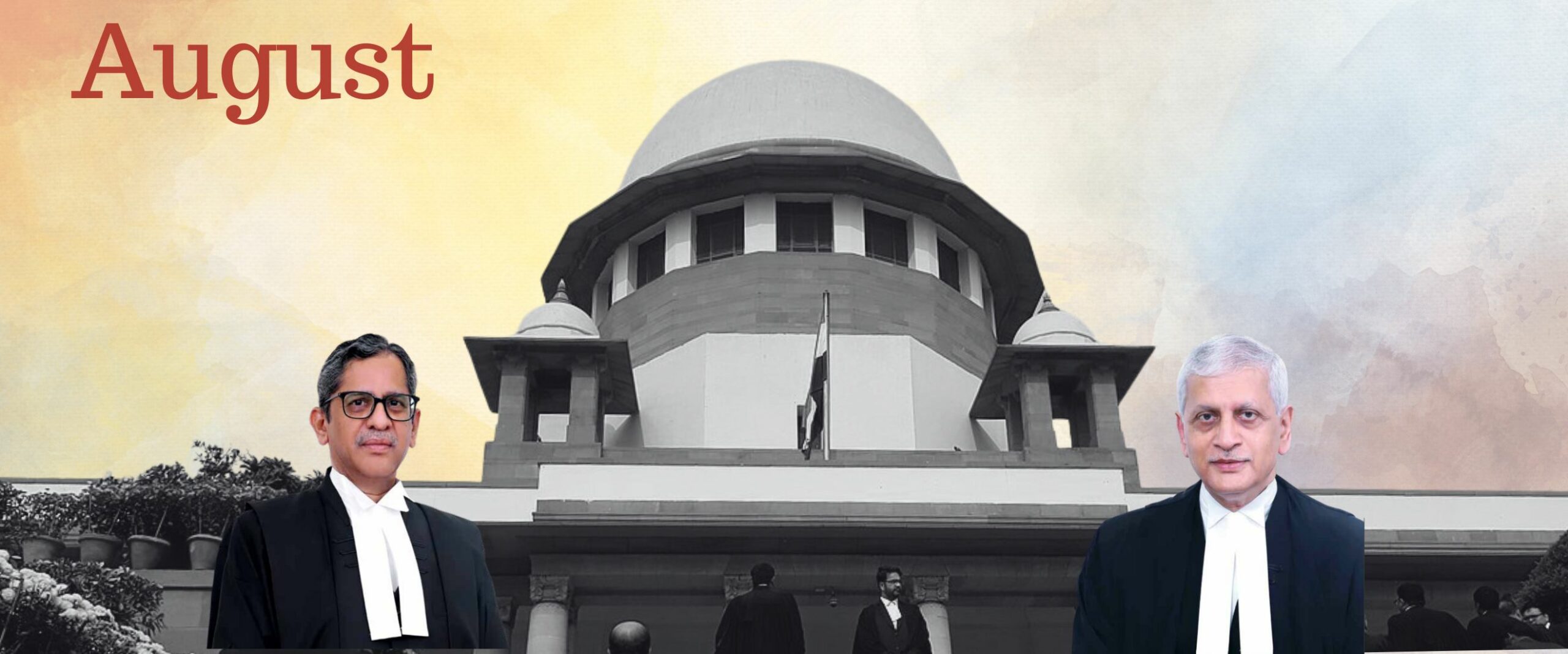 In August, the Supreme Court was rocked by administrative and institutional changes, beginning with the retirement of Chief Justice N.V. Ramana and the subsequent appointment of Chief Justice U.U. Lalit.
CJI Ramana Retires After Nearly a Decade at the SC
On August 26th, 2022, Chief Justice N.V. Ramana's tenure at the SC ended. He served at the Supreme Court as a Judge for 8.5 years since February 2014. He was appointed at the CJI on April 24th, 2021, and served a tenure of 1.3 years.
CJI Ramana's legacy as a Chief Justice is marked by the devastating effects of the second wave of COVID-19 on the Court, a distinct reluctance to hear Constitution Bench cases, rousing speeches, and a notable number of High Court appointments.
CJI Ramana, as the second 'COVID-19 CJI', saw the number of pending cases at the SC cross 70,000 in January 2022, and by the end of his term, it had increased by 5% overall. During his tenure as CJI no hearings were conducted in any of the 53 pending Constitution Bench cases, and many of the most important cases he presided over remained undecided by the time he retired.
Despite a long tenure, he wrote a relatively low number of Judgments compared to other sitting SC Judges who were appointed around the same time. After being appointed CJI, his rate of authoring judgments each year fell slightly as well.
The CJI Ramana-led Collegium recommended 363 names for High Court Appointments during his 1.3-year term as Chief Justice. This is higher than all of his predecessors since the Collegium began publishing its resolutions in October 2017.
On his final day as the Chief Justice the SC live-streamed the proceedings in his Courtroom for the first time in the Court's history.
CJI Lalit Brings Long-Awaited Changes
Following CJI Ramana's retirement, Justice U.U. Lalit was appointed as Chief Justice of India and immediately brought major changes to the Supreme Court with him. In an interview with NDTV leading up to his appointment, he relayed his plan to have matters decided promptly and bring 'maximum efficiency through limited resources' to the SC.
On August 24th, 2022, two days before the office of the Chief Justice switched hands, the SC announced the listing of 25 Constitution Bench matters for hearing, starting from August 29th. This date also served as CJI Lalit's first working day as Chief Justice. On August 26th CJI Lalit made his own announcement, stating that the Court would '…strive hard to always have at least one Constitution bench functioning all throughout the year.'
Institutional Changes
On August 26th, 2022, CJI Lalit announced that changes would be made to the process of listing cases and mentioning urgent matters to make them more transparent. On August 30th, the SC announced that all fresh matters that did not have defects in the petition and were verified by the SC Registry would be listed within a week. In case the number of matters listed on either of these days is in excess, some matters will be listed for the following Monday or Friday. Further, CJI Lalit has prioritised hearing 'regular' matters which have been admitted and are pending arguments, over fresh 'miscellaneous' matters on Tuesdays, Wednesdays, and Thursdays.
Despite having a relatively short tenure of 74 days, CJI Lalit's ambitious plan of action seems to be paying dividends. The Court reportedly disposed of more than 1800 cases during his first week in office.
Scheduling of Constitution Bench Hearings
Two 5-Judge Constitution Benches briefly convened on August 30th and finalised five cases to finish hearing in the month of September. This marked the first time Constitution Bench matters were heard in more than a year.
The two Constitution Benches are being led by CJI Lalit and Justice Indira Banerjee respectively. The Constitution Bench led by CJI Lalit will hear the challenge to reservations provided based solely on economic criteria and the challenge to Andhra Pradesh's 2005 reservation policy identifying Muslims as a 'backward class'. On August 30th, the Bench stated that these two cases will be heard together as they deal with similar issues. Final hearings in these matters will commence from September 13th, 2022 onwards.
The Constitution Bench led by Justice Banerjee will hear three cases in September. The Bench will decide key considerations for remission policies, and the validity of exceptions to tax exemption provisions in sales tax statutes. Further, they will decide whether the eligibility criteria for a public post can be changed once the selection process has begun. The Bench will begin final hearings in these cases on September 6th, 2022.
Both Benches emphasised the need for fast and timely hearings. The Judges leading them, CJI Lalit and Justice Banerjee, will both retire this year. Justice Banerjee will serve her last day as an SC Judge on September 23rd, 2022 which may explain the haste to complete final arguments in these cases.