Analysis
2022 Supreme Court Review: Reservations
Judgments on various reservation policies this year provided little clarity on what this affirmative action measure is meant to accomplish.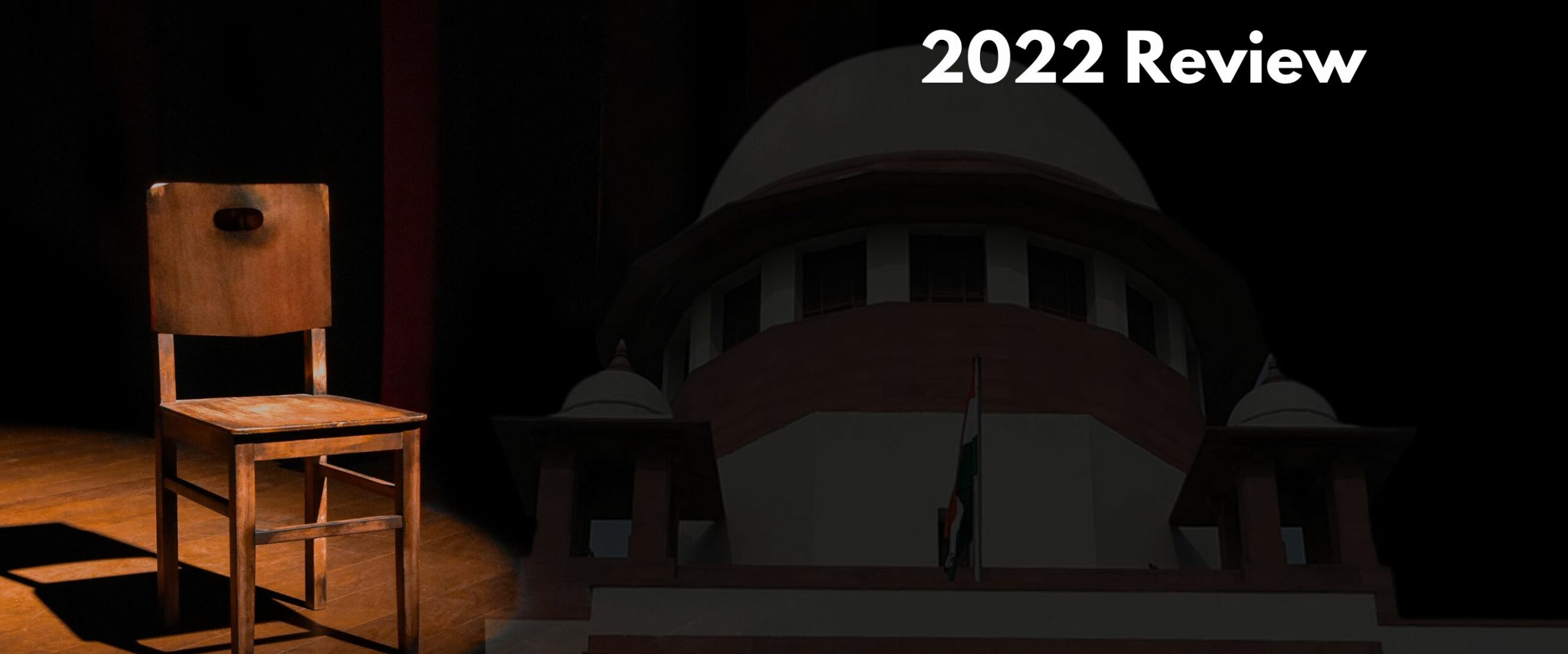 In November this year, Justice B.M. Trivedi wrote that the "way forward leading to an egalitarian, casteless and classless society" was to prescribe a time limit to reservations in India. She was writing one of the three opinions that upheld EWS reservations. Justice J.B. Pardiwala, in the same case, invoked Dr. B.R. Ambedkar's views that reservations were meant to be used for 10 years, and not more. 
Affirmative action through reservations have stuck around in public employment and education for the last 75 years. However, in many instances, there appears to be little clarity on some fundamental questions on why reservations were introduced, and who were its intended beneficiaries. In the four leading reservation cases this year, the SC arguably made little headway in answering these key questions. 
#1 SC Upholds Reservation Based on Economic Criteria (Nov 2022)
In the biggest Constitution Bench case of the year, the Supreme Court upheld reservations for Economically Weaker Sections of society, introduced through the Constitution (One Hundred and Third Amendment) Act, 2019. It introduced reservations based solely on the economic status of individuals. Critics of the Judgment state that it flies in the face of the Right to Equality, by excluding socially disadvantaged persons (such as SC/STs and OBCs), who are often the most economically deprived. 
The 103rd Amendment added to Articles 15 and 16 of the Constitution. It enabled the State to make special provisions for the advancement of any economically weaker section of citizens, including reservations in educational institutions. Further, it provided an upper limit of EWS reservations at 10%, independent of ceilings on existing reservations. Further, it excluded SCs/STs and OBCs from the benefits of EWS reservations.
The challenges to EWS raised three main concerns. First, that according to the 1992 Judgment in Indra Sawhney, reservations cannot solely consider economic criteria. Second, excluding SCs/STs and OBCs violated the constitutional guarantee of Equality. The petitioners argued that data relied on to introduce the 103rd Amendment itself recognised that a bulk of the economically disadvantaged sections of India belong to the backward classes. Third, Indra Sawhney set a 50% limit to reservations in education and public employment. Adding a 10% quota in addition to that existing reservation (which amounts to 49.5%) squarely breached that limit. 
Three out of five Judges upheld the Amendment. All five Judges agreed that the Constitution permits reservations based solely on economic criteria, but disagreed on who can avail EWS reservations and how many seats may be reserved. 
Justices Dinesh Maheshwari, Bela Trivedi and J.B. Pardiwala upheld the Amendment in its entirety. They held that economically disadvantaged persons formed a class of their own, distinct from socially disadvantaged persons. Along with upholding economic criteria for reservations, the three Judges found that SC/ST and OBC citizens can be excluded from the scope of EWS reservations. 
Former Chief Justice U.U. Lalit and Justice Ravindra Bhat dissented. They held that though economic criteria for affirmative action such as reservation is valid, exclusion of SC/STs and OBCs from this benefit is not. Further, they pointed out that the Union is obligated to address social inequalities. Excluding the poorest among SC/STs and OBCs violates the Right to Equality.
#2 States Seek Clarity on Reliable Data to Provide Reservations in Promotions (Jan 2022)
Jarnail Singh v Lacchmi Narain Gupta brought a key question concerning reservations to the forefront—what kind of data should be used to determine if a class of persons are inadequately represented? Though the question was raised in the context of reservations in promotions, it highlights a glaring lack of clarity in how we quantify backwardness and provide reservations in India. 
In M. Nagaraj v Union of India (2006), the SC laid down three conditions that States had to meet, before providing reservations in promotions. They had to prove that a class was indeed backward, that they were 'inadequately' represented in a particular post/position, and that providing reservations for that class would not hinder administrative efficiency.
In 2018, the Supreme Court while revisiting Nagaraj, upheld these conditions with one exception. They struck down the requirement to prove backwardness. Additionally, they held that the 'creamy layer' of SC/STs must be excluded from benefiting from reservations in promotions. States approached the Court asking what criteria must be considered to determine inadequacy, bringing the Jarnail Singh challenge back to Court.  
This year, the Supreme Court answered a part of that question. They stated that inadequacy of representation would be counted in every cadre, and not the entire service. This means that instead of granting a blanket reservation within the entire service, each group within that service must be considered separately. Justice L.N. Rao wrote that States must themselves develop a criteria to determine inadequacy of representation of SC/STs. 
However, confusion remains as States are unsure about how reliable data should be collected to prove inadequate representation. Appeals from many states, whose High Courts have struck down their reservation policies for not abiding by the SC's guidelines, remain pending before the Court today. The lack of clarity in Jarnail Singh sheds light on a critical question in reservation policies. What data should be relied on to offer reservations? 
#3 SC Struck Down Reservations for the Vanniyar Community in Tamil Nadu (March 2022)
The question of how affirmative action through reservations should be provided came up in Tamil Nadu this year. A 2021 Act gave 10.5% reservations to the Vanniyar community in public employment and education by sub-classifying them within the 20% seats reserved for the State's Most Backward Classes (MBCs).
Six months later, in August, the Constitution (One Hundred and Fifth Amendment Act), 2021 restored States' power to identify classes for reservation, after the Maratha Reservation Judgment in May took it away. 
Communities under the MBC category approached the Supreme Court with two contentions. First, they argued that the Tamil Nadu government passed the law before the 105th Amendment was introduced. Therefore, they did not have the power to identify Vanniyars as a class of persons for reservations. Second, they argued that the Tamil Nadu Government did not have adequate data to introduce this law. 
The Tamil Nadu Government argued that it merely subclassified Vanniyars within an already existing reservation for MBCs—they did not identify Vanniyars afresh. Further, they claimed that the reservations were introduced based on the reports of the Tamil Nadu Backward Classes Commission. It recognised that Vanniyars made up 13% of the population of Tamil Nadu and formed a homogenous group themselves. 
On March 31st, 2022, the Supreme Court held that the Tamil Nadu Government was competent to provide internal reservations. However, they relied on 'outdated and antiquated data' in this case. Providing internal reservations for Vanniyars based on this data was detrimental to other MBCs, particularly when unlike the State's 115 other MBC communities, the Vanniyars already enjoyed higher representation in public employment and educational institutions. The Vanniyar Judgment added to a list of cases that emphasised the need for reliable data to provide reservations. 
#4 SC Upheld OBC Reservations in PG NEET Exams, Leaving EWS Reservations to be Decided for the 2022 Cohort (Jan 2022)
2022 began with the threat of a third wave of the COVID-19 pandemic. And yet, 2021 PG NEET examinations had not been conducted due to lockdowns, depriving hospitals of thousands of doctors. Resident doctors across the country staged protests and strikes, warning the government that hospitals will be severely understaffed and ill-equipped to handle the demands of a potential third wave. 
The delay was aggravated by the introduction of 27% reservation for OBC students and 10% reservation for Economically Weaker Sections (EWS) students admitted under the All India Quota in July 2021. Doctors and students challenged the reservations, arguing that it was 'reverse discrimination' against the general category candidates, as it takes away seats from meritorious candidates. They invoked the 50% ceiling limit on reservations laid down in Indra Sawhney (1992). 
Responding to the urgency of the situation, on January 7th, 2022, Justices D.Y. Chandrachud and A.S. Bopanna delivered an Order to facilitate the quick completion of examinations. They allowed the Union government to complete the 2021 PG NEET examination with reservations to OBC and EWS candidates. 
In the same Judgment, they upheld OBC reservations, stating that reservation is not antithetical to merit. Though the 2021 PG NEET round would provide reservations for both, the validity of the ₹8 lakh income limit to be eligible for EWS reservations was scheduled to be decided after the third wave of the pandemic. However, substantial hearings have not been held yet, causing concerns as 2022 ends.