Analysis
The Consequences of Absence: Justice Chandrachud and the Collegium
Justice Chandrachud's reluctance to attend the last Collegium meeting opens the door for further delays in the body's critical functioning.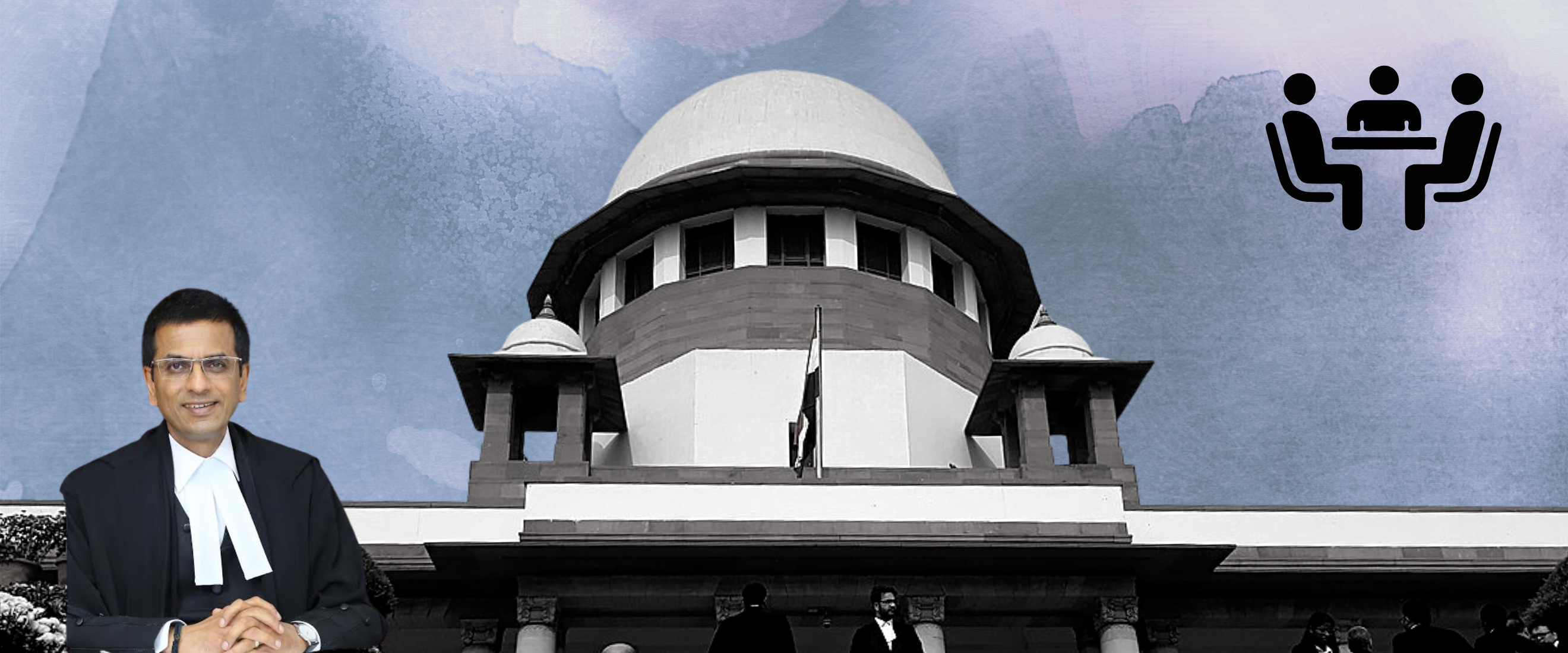 Justice D.Y. Chandrachud's nonattendance of the CJI U.U. Lalit-led Collegium's last meeting may have worrying repercussions on his upcoming 2-year tenure as the Chief Justice of India. How will he prevent Collegium members from stalling meetings by absenting themselves when he takes over as the Chief Justice of India?
The delay in making Judge appointments comes at a time when the Supreme Court is in dire need of its full strength of Judges to hear the cases before five operational Constitution Benches, and tackle the overwhelming number of pending cases. Justice Chandrachud is set to inherit seven vacancies in the SC roster at the start of his term as CJI on November 9th, 2022, with 11 more Judges set to retire during his 2-year tenure.
Upcoming Retirements
Why Did Justice Chandrachud 'Protest' Against the Last Collegium Appointments?
The reasons behind Justice Chandrachud's absence from the last Collegium meeting are unclear. Judges of the top Court usually do not sit late into the evening hearing cases. Despite their extensive hearings lists, SC Judges close hearings at around 4-4:30 PM every day. They almost never sit until 9 PM hearing cases as Justice Chandrachud did on September 28th, 2022—when CJI Lalit's last Collegium meeting was scheduled. This unexpected extension of hearings on a day a Collegium meeting was scheduled drew much speculation from observers of the Court. 
On the same evening of Justice Chandrachud's absence, CJI Lalit circulated a letter among the Collegium members, proposing the elevation of four Judges. In the following days, Justices Kaul and Joseph approved the recommendation. Justice Chandrachud and Nazeer wrote to the CJI objecting to the method of recommending appointments via a letter. The CJI wrote back. He asked the judges to explain the reasons for their disapproval, or to suggest an alternative method. His letter was met with silence. Much of this back-and-forth remained secret until October 9th, 2022, when an official Resolution was published on the SC website. It revealed the tension among members of the Collegium and offered a rare glimpse into its inner workings.
The absence has large consequences for CJI Lalit's legacy. Given his short 74-day tenure, and the convention of not making appointments during a CJI's final month, CJI Lalit only had 42 days, including a week of Dussehra vacations, to make Collegium recommendations. The post-COVID Court that he inherited came with over 70,000 pending cases. CJI Lalit revived Constitution Benches and introduced sweeping administrative reforms in how cases are listed and how advocates can mention cases urgently. His final task before retiring was to address the five vacancies in the SC. 
As per convention, the outgoing CJI does not influence Collegium appointments after naming their successor, which typically takes place one month before they demit office. With CJI Lalit's retirement just a month away, he lost his last chance to elevate new Supreme Court Judges. 
Protest in absentia: An Objectionable Method?
Justice Chandrachud's absence from the last Collegium meeting stands out even without this revelation of the time constraints faced by the CJI Lalit-led Collegium. If he wished to oppose the candidature of any of the proposed names, a simple dissent may have sufficed. Collegium Resolutions must be unanimous to be approved—effectively granting each member a veto. Hearing cases till 9 PM instead of attending the Collegium meeting may have done more harm than good.
In the past, Collegium members, have expressed opposition directly through their dissent.  Reportedly, Justice Rohinton Nariman blocked Collegium resolutions for the appointment of Supreme Court and High Court Judges for 22 months in this way until the body recommended Justice A.S. Oka, and former Justice Akil Kureshi of the Tripura HC (the seniormost High Court Judges at the time). He retired before the deadlock could be resolved.
Justice Chandrachud absenting himself to stall the meeting, and by extension, the Judge appointment process, does not appear to serve a decipherable purpose. Instead, it might have set a dangerous precedent for dissent in the collegium, which Justice Chandrachud himself may have to deal with during his Chief Justiceship.
The Road Ahead for CJI Chandrachud's Collegium
The Collegium led by Justice Chandrachud will have six members instead of five until May 15th, 2023, when Justice M.R.Shah retires—a consequence of his longer-than-average tenure as CJI. Justice Sanjiv Khanna, Justice Chandrachud's expected successor as CJI, will be the sixth. Usually, the four senior-most Judges after the CJI are appointed to the Collegium. If the next expected CJI is not among these four (as with Justice Khanna), they must also be made a part of the Collegium as the newly appointed Judges will function during their term as CJI.
CJI Lalit's retirement will bring two new faces to the Collegium—Justices M.R.Shah and Khanna. The induction of new members will also mean that deliberations on filling existing vacancies at the SC will need to start afresh. The CJI Lalit-led Collegium managed to make just one recommendation—Justice Dipankar Datta from the Bombay HC—for elevation to the Supreme Court. 
With Justice Hemant Gupta's retirement on October 16th, 2022, and CJI Lalit's upcoming retirement, Justice Chandrachud will inherit a Supreme Court with 7 vacancies—over 20% of the Court's sanctioned strength of 34 Judges. His 2-year tenure as CJI will see another 12 vacancies. The CJI Chandrachud-led Collegium will be faced with 19 appointments to make. However, Justice Chandrachud has set a standard for future protests 'in absence', in place of vocal deliberations. How will the next CJI navigate a possible practice of protest in which he took part?